Holds Tata's hands to meet target of 5 crore new jobs by 2020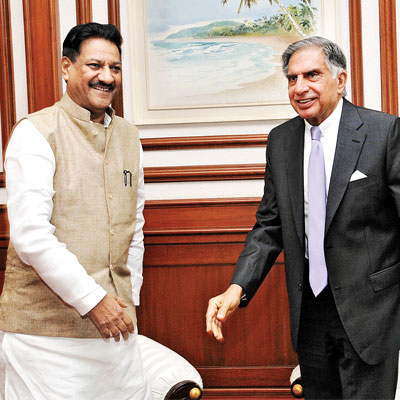 The state government has decided to create 50 million jobs by 2020 in partnership with the private sector. As a part of this, chief minister Prithviraj Chavan met industrialist Ratan Tata on Tuesday and discussed various issues.
State chief secretary JS Saharia, who attended the meeting, told dna: "We have set up the vision and, in this regard, we had discussions with Mr Tata. It was a very fruitful meeting, but difficult to tell how much money they (Tata) will invest in our various programmes. It is up to them to decide. Actually, more than money, we want to take his visionary help to lead the state."
He said Mr Tata has decided to extend all possible help to improve growth and make Maharashtra number one in all sectors. "We have also decided to focus on the education system. At present, many students are passing out but not meeting demands of the industry, resulting in rise in unemployment. Mr Tata will give us suggestions and ideas that will be gradually implemented in our education system," said Saharia.
Currently, education and health are being run by the private sector. "We cannot ignore their contribution and importance. We have decided to focus on giving quality education and improving health-care facilities.
Also, we want to promote tourism and industry taking the private sector along," said Saharia.
A highly placed source said, the chief minister will be meeting other industrialists in coming days. "The UPA-II's major failure was that it failed to generate adequate jobs, leading to unemployed youths deserting the Congress. The party wants to curb the erosion of its youth base before in time before the state assembly elections. So, it is a damage-control strategy by the chief minister," the source said.
A senior Congress leader told dna that the state government had huge potentiality but it had negligent in last several years. "We cannot see new jobs in the state. Industrialists are not setting industries because of the state's obstructive approval procedure. There is so much red tape in Maharashtra, while in Gujarat, there is red carpet. We have to change our image. I am happy that chief minister Chavan has realised the government's mistake and is correcting it," he said, requesting anonymity.