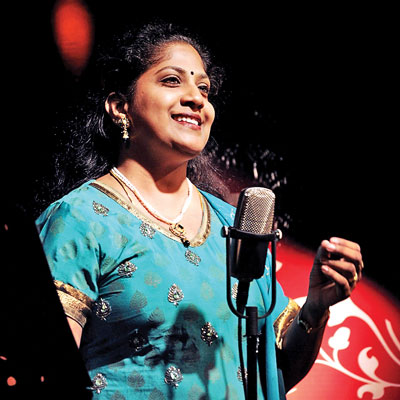 Chennai's very own Asha Bhosale, who has sung under the baton of many including Madras Mozart AR Rehman is set to perform in Mumbai for the first time. Jaya Rajagopalan, who will be performing at the retro-themed musical show Albele Din Pyaare, said, "It is exciting to be performing in Mumbai, which is known for its discerning audiences."
Rajagopalan, who started her career singing in light music troupes soon began singing for films. Now she has to her credit more than 200 songs in various languages like Tamil, Telugu and Hindi movies.
This much-in-demand versatile singer, who can sing in variety of voices to go with characters 8-80, has performed across the world with some of the leading music directors. With jingles, serial title-songs, one would think she has had her full. "An artiste has to keep pushing herself to find new frontiers," laughs the singer, who has several pop and devotional albums to her credit too.
In fact, her latest and her sensational show Jaya Ho, has completed 125 consecutive weeks in Chennai and still sells out within hours of a show being announced.
Where: Veer Sawarkar Auditorium, Shivaji Park, Dadar
When: Sunday, 3-6pm