Andheri-based Rushina Munshaw-Ghildiyal's journey frombeing a blogger to a food consultant, author and the founder of a cook studio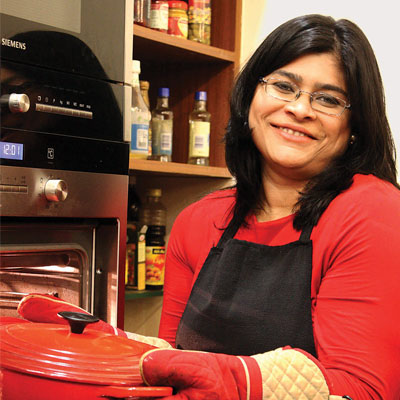 A literature and fine arts student, RushinaMunshaw-Ghildiyal found her true calling in food writing. A food blogger turnedfood consultant; author of two celebrated cook books; and the founder of a cookstudio – Rushina seems to be Mumbai's answer to Julia Child.
Rushina's exciting journey started while she was on a sabbatical after herfirst child. She would spend a lot of time on the internet, reading about foodand sharing her thoughts with people having similar interests. One of herpieces on the cuisine of Uttarakhand caught the attention of a gastronomymagazine, which asked her to write for them. After a few years, Rushina went onto become a food consultant and presently set up 'A Perfect Bite Consultant'with the aim to share her love for food.
'We make beautiful things together'
Rushina set up her cook studio along with her husband, Shekhar Ghildiyal. Sherecounts, "One evening in December 2011, when Shekhar was considering quittinghis job, we were cooking dinner together. Using ingredients primarily from thefarmer's market, he had made bread while I had cooked Pepper Mushroom, figsalad and pasta. We kept tasting each other's dishes and congratulatingourselves on how well everything had turned out as the kids ran around, takingbites of this and that. Suddenly Shekhar turned to me and said, 'We makebeautiful things together.' That is when we decided that we wanted to put allof this passion into doing something together, like making a beautiful spacefor people to come and cook together and bond over food."
A memoir of food
Her book A Pinch of This, A Handful of That is a memoir of food. She wrote itfor her next generation, so that they could have a better idea about theirculinary roots; she takes the reader through her culinary journey, from herchildhood to her present. Rushina shares, "Writing a book is solitary work andfinishing it at 4am is even more so. I remember tweeting that writing a bookwas like having a baby." Her book blends storytelling and her gastronomicjourney with élan.
A juggler's life
"Juggling motherhood and a small business is really tough: you question yourdecisions constantly, live with tons of guilt, beat yourself up every timesomething goes wrong. But there are many rewards as well. I have learnt toprioritise: it is family or home, work and I, in no specific order. It meansmany other things take a backseat but I do not have more of myself to investand I accept that. However, I ensure that I look after myself as well because Iam aware that much depends on me," says Rushina.
For details about A Perfect Bite Cook Studio, visit www.apbcookstudio.com