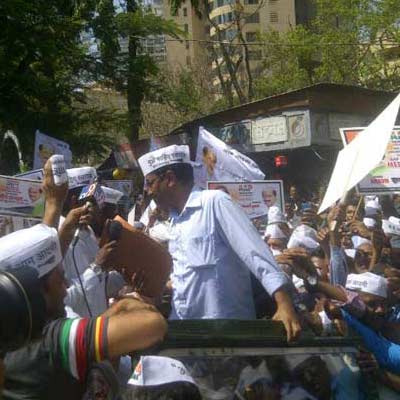 The streets and local train railway stations on the western line of Mumbai witnessed an unanticipated chaos of a different kind this morning. At 10.30 am, soon upon arrival at the Chhatrapati Shivaji International Airport, Arvind Kejriwal, wasting no time, started the Maharashtra campaign of Aam Aadmi Party. He travelled to Andheri station in an auto rickshaw and was followed by an army of media vehicles and supporters on motorcycles and autos.
At 11.04 am, Kejriwal arrived at Andheri station where he was greeted by a massive crowd that was on the streets, perched on top of walls and parked vehicles. The party supporters waiting with garlands and banners outside Andheri station
The party supporters waiting with garlands and banners followed him to Platform No.2 from where Kejriwal was to take a train to Churchgate station. Kejriwal got into a Churchgate slow train, which was completely chock-a-block with media personnel, supporters and was under heavy police protection.

Andheri station platform No.2
Kejriwal, unlike the average Aam Aadmi, managed to get himself a window seat

Kejriwal inside the train
Meanwhile, at Churchgate station, most regular commuters, unaware of Kejriwal's Mumbai visit and his plans of travelling in a local train, were heard curiously asking police personnel the reason behind additional security at the station. Deenathram, a cobbler inside Churchgate station told iamin, "BMC cleared out all street vendors outside Churchgate station early in the morning resulting in loss of livelihood for the day."
Several daily commuters, when informed about Kejriwal's plan to arrive at Churchgate station, expressed disapproval and were heard calling the AAP chief a publicity hungry politician.
In the train, cops were stationed at each of the doors of the train compartment. The police, at several stations like Vile Parle and Mahalaxmi, for security reasons did not allow crowds to enter the already jam packed train. Supporters, wearing the trademark AAP cap, were also spotted dangerously hanging outside the train and cheering for the party and its leaders.
The crowds surged at Churchgate station just before the train in which Kejriwal was travelling arrived at the station. The train arrived at the station at 12.15 pm and Kejriwal could manage to get off the train only at 12.19 pm because he was blocked at the compartment door by media persons and supporters. The crowds, upon his arrival at the station, completely went out hand and were seen jumping from one train to another and climbing benches just to get a glimpse of the AAP chief. The unruly behaviour of the crowd resulted in multiple damaged metal detectors. Supporters were seen and heard egging regular commuters to cheer for the party.
Unruly crowd outside Churchgate station
Kejriwal took the Government Law College exit, sat in a grey Wagon R, and headed to Bajaj Bhavan for a party meeting. The party did not get permission to gather at Azad Maidaan and therefore had to change plans and gather at Nana Chowk to start their road show.
At 2.05 pm, social worker and AAP candidate from Mumbai Northeast constituency Madha Patkar arrived at Nana Chowk in a trademark green saree. She was heard telling AAP volunteers at the venue that she wasn't aware of the change in venue from Azad Maidaan to Nana Chowk. "The EC (election commission) keeps changing the venue and don't give any confirmations till the last minute," a miffed Patkar told Iamin.
Medha Patkar arrives at Nana Chowk
At 2.25 pm, Kejriwal arrived at the venue with Meera Sanyal, former top banker and the AAP Lok Sabha candidate from Mumbai South.
Kejriwal started his rally from Nana Chowk, heading towards Nagpada at 2.32 pm. Kejriwal was seen in an open green jeep surrounded by massive crowds. "If Aam Aadmi Party is for the people then they should make sure that they don't inconvenience people,' Thresa D'Souza, 45, a miffed commuter stuck in traffic, told Iamin.
Close to 200 police personnel were on duty for Kejriwal's rally, which at 3.35 pm reached Nagpada.