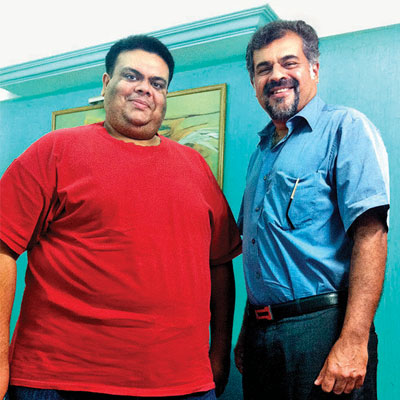 Recently, Lilavati Hospital's orthopaedic team performed a difficult knee surgery on a 165kg man.
The team of doctors had to make a special arrangement and take extra care to operate on him.
Dr Dilip Nadkarni, orthopaedic surgeon said, "He is a regular patient of mine. He gained weight dramatically and because of his weight, his knee joints suffered. The shock absorber had a wear and tear. Last week, the knee completely got locked because of which he couldn't walk. We did an MRI and decided to take him up for surgery."
The decision to take the 30-year-old for surgery opened up a series of challenges. "The risk of operating on him was equal to the risk of operating on an 80+ patient. The biggest challenge was the anaesthesia.
Obesity brings along sleep apnea and the chances of oxygen level going down in such people are more. We decided to give him regional anaesthesia against general anaesthesia," added Dr Nadkarni.
Once the doctors decided on anaesthesia, the other challenges were arranging for special instruments and operation table that will bear his weight. "We arranged for special instruments and borrowed a operation table from the bariatric department, who routinely operate on obese people," said Dr Nadkarni.
Dr Nadkarni further added that normally in an arthroscopy surgery (minimal invasive surgery) an instrument of six inches works but in his case they had to arrange for a 9-10 inches long instrument. "We used modern technology like the radio frequency. While operating we had to be careful as there was a lot of fat. It took us a while to reach the tissue that needed surgery. Also, in his case, figuring out the bony areas was difficult because of the fat accumulation," said Dr Nadkarni.
The man was discharged on the very same day of his surgery. "We made him walk the same evening and discharged him. The minimal invasive surgery ensures quick recovery," said Dr Nadkarni.