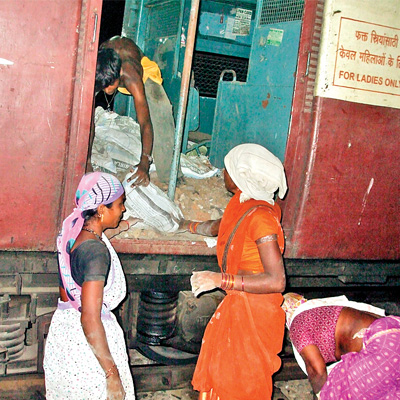 Can 14,000 cubic metres of silt drawn out of the drains and culverts on the Central Railway's suburban line help to avoid flooding and consequent disruption of train services during the monsoon? Railway officials are hoping that it will.
On a rail network that has been handicapped during the monsoon, the officials say that with the silt cleared, water flow into the drains would be improved.
The drain clean-up operation started a long time ago, with a trainload of silt-filled bags cleared in October. Two trainloads were cleared a couple of months later.
These "muck specials" are old six-coach rakes that are used to pick up the silt-filled bags between CST and Thane on the main line and up to Mankhurd on the harbour line.
The muck is dried before it is dumped near the Vashi creek, to strengthen the protective embankment at the mangroves.
"A second rake was added so that we could concentrate on both the main line and the harbour line. In the long run, it is the best defence against flooding. Last year, we removed more than 10,000 cubic metres of silt and this year we have already removed 14,000 cubic metres. Hopefully, this will yield positive results," said Rajiv Tyagi, officer on special duty.
For the CR, it's as much a fight against nature as the poor drainage system. Between CST and Byculla, the water drains from the west to the east into the Mumbai Port bay area. Between Byculla and Kurla, the water discharges in the opposite direction.
The problem is that several stretches are at a higher level than the stations. For example, a major drain that flows below Currey Road climbs to a height of five metres at Mahalaxmi. "In short, during heavy rain spells the water in the drain will flow slowly and could result in flooding in parts of Currey Road," an official explained.
Besides, major junctions like Kurla, Thane and Kalyan are also located in low-lying areas
Another recent phenomena is the construction work along the western fringe of the rail line between Kurla and Mulund, where the plinth of new residential colonies is at a higher level than the tracks. The result is a larger water flow onto the tracks, increasing the risk of flooding.