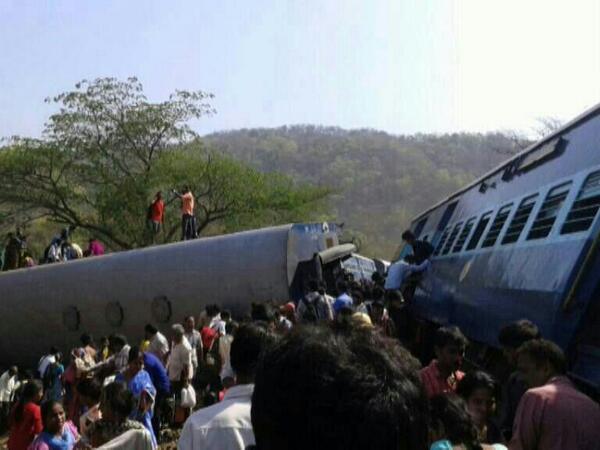 As per latest figures,18 people were killed and at least 123 were injured when four compartments of the Diva-Sawantwadi Passenger, along with the engine, were derailed between Nagothane and Roha stations in Maharashtra's Raigad district on Sunday morning.
Maharashtra train derailment kills 18
18 dead, 123 injured have been confirmed. Of these, 10 passengers have been reported dead at the Nogothan hospital and another three dead are at ROHA hospital. 61 injured at ROHA hosp, out of which 35 are male, 23 are female and three children.
Another 38 injured are at NGTN Govt hosp out of which six are serious. Dhruv hosp at ROHA has admitted 20 out of which six are serious. Ambewadi (near Kolad) PHC, three injured all simple. Wagle hospital ROHA has one kid injured.
The train's engine and a couple of coaches came off the tracks, officials informed.
Railways today ordered an inquiry into derailment of a passenger train on Konkan route in Raigad district of Maharashtra and announced an ex-gratia of Rs two lakh for those killed in the accident.
Railway Board Chairman Arunendra Kumar said Commissioner, Railway Safety, Chetan Bakshi will conduct the inquiry and has rushed to the site. Railway Minister Mallikarjun Kharge announced an ex-gratia of Rs two lakh for those killed in the accident, Rs 50 thousand for the grievously hurt and Rs 10,000 for passengers who suffered minor injuries.
The chairman along with Advisor, Health, BB Agarawal are also visiting the accident site.
Konkan Railway officials have rushed to the spot for assisting Central Railway in relief and restoration work. One Accident Relief Medical Van (ARMV) and one Accident Relief Train (ART) have been dispatched to the site by Konkan Railway. All possible assistance, as requested by Central Railway, is being extended for a quick relief and early restoration.
Below are the diversions and cancellations:
Due to the derailment near Roha on Panvel-Roha section of Central Railway on 4.5.2014, the following mail/express trains have been diverted and cancelled.
DIVERTED VIA MADGAON-LONDA-MIRAJ-PUNE-LONAVALA-KARJAT-PANVEL
1. 12134 Mumbai Express left Mangalore on 04/05/2014
2. 12620 Matsyagandha Express left Mangalore on 04/05/2014
TRAINS CANCELLED
1. 10112 Mumbai Konkankanya Express leaving Madgaon on 04/05/2014
2. 11004 Dadar Rajyarani Express leaving Sawantwadi Road on 04/05/2014
3. 12052 Dadar Janshatabdi Express leaving Madgaon on 04/05/14
4. 10103 Madgaon Mandovi Express leaving Mumbai on 05/04/14
HELP LINE NUMBERS:
CHHATRAPATI SHIVAJI TERMINUS MUMBAI 022-22694090
DADAR 022-24114836
THANE 02225334840
PANVEL 27468833
RATNAGIRI: 02352-228176 / 228951 / 228954
BELAPUR CBD: 022-27561721 / 23 / 24