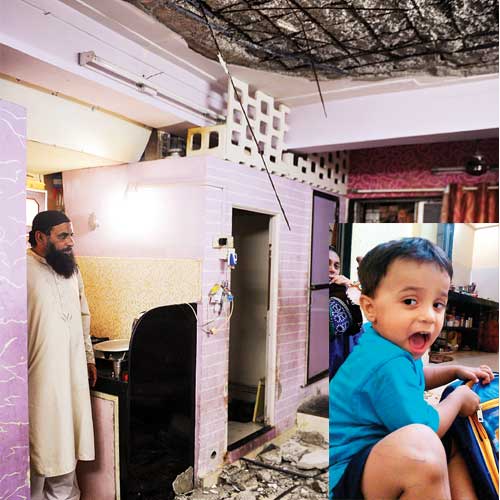 A three-year-old boy died after a slab of the ceiling of his house at Masjid Bunder collapsed around 2.30am on Friday. The deceased Masood Patel, who lived on the floor fourth of the seven-storeyed Noble House, was sleeping in the living room beside his siblings – elder sister Arshi and brother Hasan. His siblings had a narrow escape.
While the mattress on which the children had been sleeping was soaked in blood, chunks of cement and plaster lay scattered across the house, said neighbours. A neighbour of the Patels said they heard a loud crash in the middle of the night followed by loud screams. "Many of us rushed out of our homes to find that a part of the ceiling had collapsed," said the neighbour.
Pointed to some more cracks on the ceiling, the children's aunt, Shabina Tinwala, said, "It's another disaster waiting to happen."
Noble House was originally a ground-plus-two structure rickety building which was repaired and its floors raised by the landlord between 1992 and 2003. Residents claimed that the building is weak and witnesses major cracks in its columns and beams, posing danger to life and property of tenants.
This newspaper has been consistently writing about illegal buildings and possible disasters waiting to happen in parts of South Mumbai.
Corporator of Masjid Bunder area, Javed Juneja, lives on the fifth floor of the building in a rented apartment. "A structural audit of the building has to be carried out to assess its stability," said Juneja. "If the building is a load-bearing structure, it's dangerous," he said, adding that he was unaware whether the building is a load-bearing structure or an RCC structure. In terms of stability, an RCC structure is more durable and sturdy.
Deputy commissioner of police Nisar Tamboli said that no case has been registered in the incident so far. "We are still conducting inquiries," he said.
Assistant municipal commissioner Kishore Gandhi, said,"It is a Mhada cessed building. So we have no jurisdiction. However, if the building is raised beyond permissible plan and we will take action."
Falling apart
Building residents said they thought it was brand new RCC building when they bought their homes, but it turned out to be a load-bearing structure. "Parts of the ceiling are sinking," said a resident.