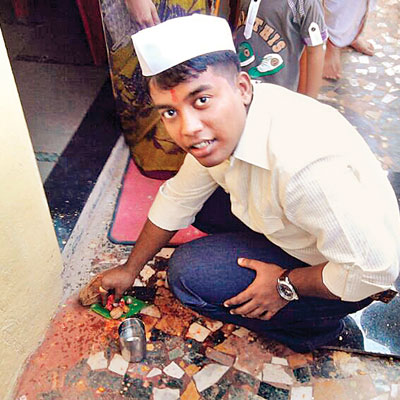 Even two days after engineering student Tushar Jadhav was murdered on a moving train on the Panvel-Thane route, the police have not been able to arrest anyone in connection with the crime.
Tushar, a third year student of Rajendra Mane College of Engineering and Technology in Ratnagiri, was returning home on Wednesday night after having written his last paper. On reaching Panvel, he took a Thane-bound train to Airoli, where he stays. Around 5.30am on Thursday, a GRP constable found him lying in a pool of blood inside the luggage compartment at Ghansoli railway station. The culprits, whoever they are, had stabbed him seven times with a knife and fled. Though GRP rushed him to a civic hospital in Thane, he was declared 'dead on arrival'.
"In the CCTV footage at Ghansoli station, we have spotted two people getting out of the luggage compartment through different doors. The footage is not clear enough to identify the two, however. But we have certain clues on the culprits, and hope to solve the case soon," said Rupali Ambure, deputy commissioner of police, GRP.
The police have recovered the knife from the compartment.
"The deceased's body has been delivered to his family after the postmortem. The report is yet to come," she added.
Mahendra Holmukhe, Tushar's uncle, said: "Tusher called his father on Wednesday night to inform him that he had boarded the train. He was coming to Mumbai from Ratnagiri with some his classmates, but we don't know anyone of them personally. Around 5.30am when his father tried his number, he was 'out of reach'. After almost two hours, his father got a call from the hospital informing him about the incident," he said.
"We don't know if the police have detained anyone. Tushar's bag, clothes, etc are still in the police station," he added.
The deceased's father, Arun Jadhav, works in the sales tax office. He has not been keeping well for the past couple of months and is on dialysis.