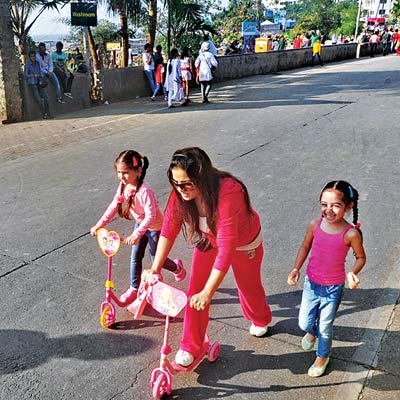 While the car-free day organised by the Khar-Bandra-Santa Cruz (KBS) Foundation on Sunday at Carter Road saw a vibrant mix of walkers and cyclists, several citizen activists complained that the event has proved to be a source of encouragement to the builder lobby and blatantly flouted several norms.
"The event is funded by the builder lobby; so, it would be difficult for the public to raise their concerns or put their complaints against them to politicians," said Anil Joseph, chairperson of Perry Road Residents' Association.
"Hundreds of illegal hawkers come to Hill Road and Linking Road as authorities are all occupied in ensuring smooth flow of the event. The footpaths are flooded with advertisements and stalls, leaving no walking space for pedestrians," added Joseph.
Aftab Siddiqui, chairperson of 33rd Khar ALM, said: "The event is illegal as the Foundation is not registered with the charity commissioner. There is no tab on the unaccounted money they collect during the event. Audit records show that last year Rs10,000 was collected from each of the 80 stalls, whereas the BMC gets just about Rs150 for the ground rent."
According to Siddique, an inquiry into the last year's event is pending in the H-West ward. "However, for the past six months, there has been no development on this as politicians are involved in the event," Siddiqui alleged.
Madhu Poplai of KBS Foundation, however, refuted all allegations of irregularities. "We did have some issue with the charity commissioner registration, but we are almost on the verge of getting it done," said Poplai.
"There is no pending inquiry with the ward office to my knowledge. Whenever some good work is being done, you are bound to receive criticism," she added.