Togo jail is a hell on earth. For the first 46 days, we were lodged in a small room along with 80 other prisoners from various countries. Many days we could not eat as our food was snatched by fellow prisoners, says sailor Vijayan.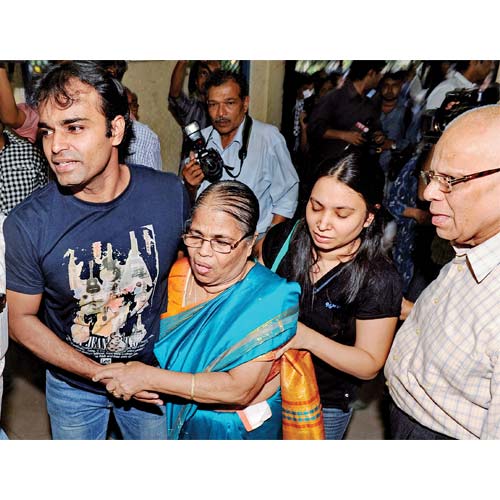 Merchant Navy captain Sunil James, who was recently released from a jail in Togo where he had been kept in custody for the past five months, arrived in Mumbai on Friday to a homecoming weighed down by the tragic death of his infant son Vivaan earlier this month. At this moment of happiness tinged with grief, James recounted the horror he went through in Togo.
"My priority right now is to be there for my wife. She and my family have been through a lot of trauma. When I first saw her (Aditi) at the Delhi airport I felt something that I cannot really explain but it was the happiest moment in a long time...
"We had loaded the cargo-premium motor spirit, on board the MT Ocean Centurion on July 16 at the Lome port in Togo and set sail. On that night, when we were still very close to the port, we were attacked by men armed with swords and guns. Our eyes were bounded, hands and legs were tied up and we were held hostage for an entire day. All the pirates had their faces covered so we didn't even see who they were. They looted all our belongings – the money, the laptops, jewellery, all the things the crew usually carries.
"We didn't know what their intentions were. They had started harming us – my nose was broken and I had a cut on my arm. We have no clue how the men got on board. On July 17, the pirates got off the ship, soon after which, I alerted the Togo navy. We had drifted to around 10 and a half miles away from the port. When we reached Lome, I anchored the ship at the port as instructed. The navy took me to the hospital. The wound on my arm was still bleeding. I have six stitches on that fore arm. I was worried that I had damaged my nerve. The investigations began.
"We thought we have been held back to gather information about the attack, but on July 30 we were told that we have been detained and then the ordeal began. Being a French colony, most people speak that language so they could never really communicate with us very well. So, we never knew what charges were being put on us. It was only a few days later that we were told that we are being charged for abetting the attack. However, due to lack of evidence the charges were dropped but the investigations continued and they were very slow. They have no evidence against us.
"There were very few people that helped. I communicated with the family only about once in five days if any of the guards gave me a chance to use their phones.
"On December 2, a soldier informed me about Vivaan's death. I was devasted. God decided to take my son away but the fact that I wasn't here for him and my family is what breaks my heart. I will take some time to come to terms with the reality. The disaster will not stop me from sailing. I have spent 17 years of my life doing that and I will continue to do that...
"I would like to thank all those who made efforts to bring me back. I now have responsibilities as a father, which I must fulfill and also work towards bringing my family's life back on track."