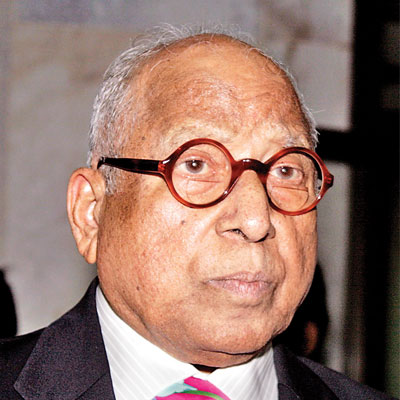 Capt Chittarath Poovakkatt Krishnan Nair, founder chairman of The Leela Palaces, Hotels and Resorts, and doyen of the Indian hotel industry, passed away on Saturday morning following brief illness. He was 92.
A statement from the hotel group said his family was beside him when the end came. The last rites will be performed on Sunday, at 3pm, at Pawan Hans crematorium in Juhu.
He is survived by his wife Leela, their sons, Vivek Nair, chairman and managing director, and Dinesh Nair, co-chairman and managing director, their wives and children.
A freedom fighter at heart, Capt Nair entered the freedom movement at an early age of 13. He joined the Indian Army in 1942 and rose to the rank of captain. After resigning from the army in 1951, Capt Nair got involved with the Indian handloom industry.
During his service in the army, he married Leela, the daughter of a handloom owner from Kannur. The luxury hotel chain that he started in 1986 bears her name.
Capt Nair understood the prospects for luxury hotels in the country during his business trips to Europe and America and this inspired him to foray the hospitality sector.
At the age of 65, he opened his first hotel at Sahar, near the international airport in Mumbai, and entered into a marketing alliance with Kempinski. Then came the Leela Goa, Leela Palace in Bangalore and Leela Beach Resort in Thiruvananthapuram.
Today, the company has properties also in New Delhi, Gurgaon, Udaipur and Chennai. New hotels are planned in Noida, Agra, Jaipur and at Lake Ashtamudi in Kerala.
Capt Nair was awarded the Padma Bhushan in 2010. He stepped down as chairman of the hotel chain on February 7, 2013 and was succeeded by his eldest son Vivek.