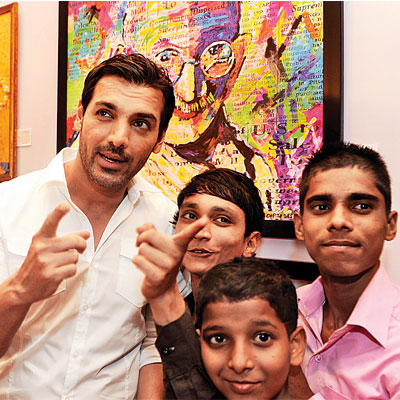 'It is not enough to add years to life, it is equally important to give life to the years added.' This is the motto of the Indian Cancer Society (ICS) which has undertaken this invaluable mission for 63 years.
On Saturday, over 250 patrons of ICS gathered to celebrate the foundation day of the pioneering NGO that has worked unstintingly for the cause of cancer cure in the country. Among the patrons are top corporate houses and philanthropic trusts.
Actor John Abraham, who graced the charity dinner to mark the 63rd Founders Day, said, "As I'm fond of sports I hope to help launch a novel initiative, 'Relay for Life', under this umbrella." Actor Varun Dhawan was the guest of honour.
ICS has screened up to 2 lakh people for cancer at camps it has held since 1986. "Cancer is curable and should be detected early. We hold 200 camps every year and screen up to 10,000 persons. The society also hosts 50 child patients and their parents free of cost at our rehabilitation centre," said Kewal Nohria, chairman, ICS.
The organisation says up to 58% per cent of patients suffer blood cancer and most of them are children.
ICS set a target to raise over Rs50 lakh on Founders' Day this year which is a little above the Rs45 lakh it collected at the event last year. It received Rs13 crore in its Cancer Cure Fund through last year.
"We fund the treatment of about 150-200 cancer patients every year. The Cancer Cure Fund has been utilized to treat 517 patients from 20 states since 2011. The expenses for each patient amount to Rs3lakh-4 lakh. This year we plan to help about 500 patients," Nohria said.
"ICS is doing great work. I am honoured to be a part of the institution. I believe that by doing my bit I am assisting underprivileged patients to get help," said Varun Dhawan.
You can help too
If you want to contribute to this noble cause, visit the office of the Indian Cancer Society at Rehabilitation Centre, 74, Jerbai Wadia Road, Parel, Mumbai, or log on to www.indiancancersociety.org. You can also email info@indiancancersociety.org, or call 022-24139445.