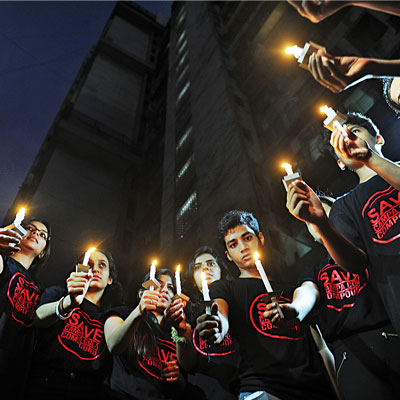 A day after the Brihanmumbai Municipal Corporation sent a notice to the illegal flat owners of Worli's Campa Cola compound, asking them to hand over the keys of their houses to the civic body by next Monday, the residents held a silent candlelight protest in the compound on Tuesday.
"None of us will be handing over the keys to the civic body by June 2 because we have nowhere to go. We can't be intimated at the last moment and asked to vacate our homes in less than a month," said Nandini Mehta, a resident.
Nearly 500 people were present at the venue to lend their support to the residents. Politicians such as BJP's Ashish Shelar, MNS man Bala Nandgaonkar and newly elected Shiv Sena MP Arvind Sawant were also present.
Shelar said, "Our party MLAs and MPs will try to meet the chief minister tomorrow. If he doesn't cooperate, we will move a privilege motion against him in the assembly for not keeping the promise he had made at the Nagpur legislature session." Shelar said the Chavan had then assured of working out a solution within a month.
"We will also convey the issue to Prime Minister Narendra Modi," he added.
Meanwhile, it has emerged that the BMC has spent Rs79.63 lakh to rope in senior advocates in fighting the Campa Cola case across different courts. The figure was provided in reply to an RTI query filed by activist Anil Galgali. The corporation has engaged senior advocates such as Ghulam Vahanvati, Pallav Sisodia, SU Kamdar and Joquim Rais.
According to the information, in Bombay City Civil Court, the BMC had hired Counsel Joquim Rais and paid him Rs1.5 lakh. In the High Court, Counsel SU Kamdar was paid Rs 1.35 lakh. The BMC hired counsels Ghulam Vahanvati and Pallav Sisodia to represent it in the Supreme Court. While Vahanvati was paid Rs 57,75,00, Pallav Sisodia's fee Rs 19,03,000.