Documents show advocates of both parties exchanged dialogue on SC direction for a middle path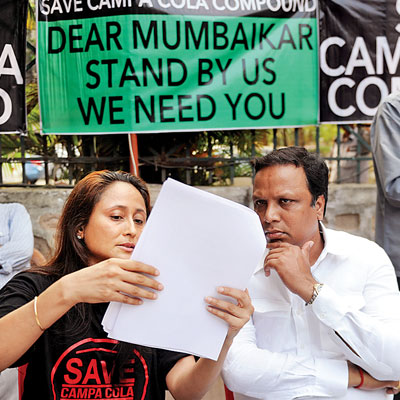 After additional municipal commissioner Mohan Adtani, on Wednesday's civic body standing committee meeting, denied that the Supreme Court (SC) had directed the Brihanmumbai Municipal Corporation to find a middle way in connection with the row, residents of the Campa Cola Compound hit back by saying that the BMC is speaking a 'complete lie'.
The residents on Thursday gave out documents to show that the civic authorities were aware of the SC directive which asked them to intervene, but were unwilling to find a solution to the vexed problem.
The documents show that the advocate general representing the civic body and the advocate for Campa Cola Compound have exchanged correspondence on this.
"It is very unfortunate that the BMC officials continue to deny any knowledge of the Supreme Court directive. On the contrary, the correspondence proves that here was indeed a dialogue between the advocates on the matter but the BMC was intent on putting up roadblocks at every stage to scuttle the whole exercise," said Nandini Mehta, a resident.
"We have submitted our documents to prove that we obtained deemed conveyance from the competent authority, but this is also being challenged by the BMC," said Vidya Srinivas, another resident.
Residents have sought an appointment from chief minister Prithviraj Chavan as a resort before the civic body puts its sledgehammers on the compound buildings. "We will talk to him for an extension, so that some amicable solution can be reached," said Mehta.
BJP leader Ashish Shelar, who was present at the event said that municipal commissioner Sitaram Kunte was surely acting on the behest of a builder or a developer. "He is not paying heed to the CM's request. We will try to ensure that the residents can at least stay on till the monsoon," said Shelar.
Asked about their future course of action, Sunanda Verma, a resident, told media persons that they will not vacate the flats by May 31. "Why should we leave and where do we go," asked Verma, adding that many prominent politicians have promised to join them in their protest.