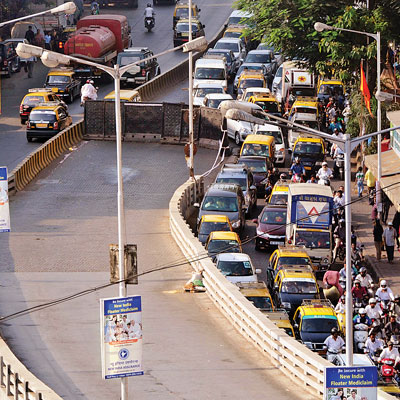 Motorists were taken by surprise on Friday morning when they experienced bumper-to-bumper traffic on the Dr Babasaheb Ambedkar Road for at least half an hour as Gloria Church Flyover at Byculla was been shut for repairs by the Brihanmumbai Municipal Corporation (BMC). The busy bridge, in fact, will be out of bounds for motorists for a fortnight.
"The work involves resurfacing of the bridge along with replacement of expansion joints, for which there is no other option but to keep the bridge out of bounds for traffic," said SO Kori, chief engineer of bridges, BMC.
In all, there are 32 expansion joints in the flyover which is more than 30 years old. The flyover stands right outside Byculla railway station. The estimated cost of the repairs is around Rs2 crore.
"It's a fortnight-long work and we expect it to finish by May 15. We hope the work gets over earlier so that inconvenience to commuters and motorists can be reduced," added Kori.
The Mumbai police had a tough time managing traffic on the arterial road. However, Dr BK Upadhyay, joint commissioner of police, traffic said, "Friday was the first day of the bridge being shut and our team has understood the situation and problem. From tomorrow onwards, the traffic situation will improve considerably."
As per the alternate route chalked out by the traffic police, motorists should take a left turn for Dadoji Konddev Road from Dr Babasaheb Ambedkar Road and head towards Reay Road to bypass the chronic congestion spot at Byculla.
Those coming from the Eastern suburbs or Navi Mumbai should opt for P D'Mello Road or Eastern Freeway to avoid traffic snarls.
Moreover, heavy vehicles will not be allowed to use Dr Babasaheb Ambedkar Road as well as the Lalbaug flyover.