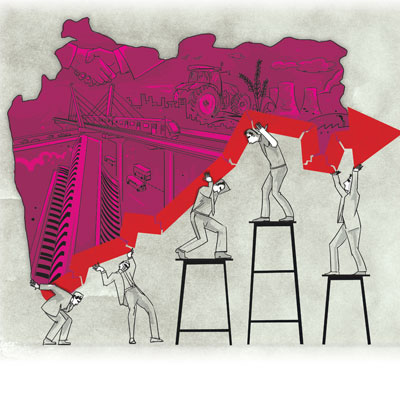 It was touted as an election budget after the severe drubbing meted out to the ruling Congress-NCP combine in the Lok Sabha polls. But deputy chief minister and finance minister Ajit Pawar's final budget ahead of the state assembly polls turned out to be a damp squid with little new on the table.
Moreover, Pawar did not evolve solutions to contentious issues, such as an alternative to the local body tax (LBT) which was meant to replace the much-reviled octroi but has faced opposition from traders. Transformation projects for Mumbai and the sensitive issue of toll also went untouched.
In his 58-minute speech, which he did not pepper with poetry and quotes as is convention, the no-nonsense Pawar granted sops to farmers, textile units and industry, and admitted that Maharashtra had witnessed a double-digit rise in the consumer price index for December 2013.
He promised more sops in the industrial policy and an amnesty scheme for distressed agriculturists who had defaulted on power bill payments.
Maharashtra expects its public debt to balloon to Rs2,41,674.50 crore. The debt stock will account for 18.2% of the Gross State Domestic Product (GSDP). The budget has a revenue deficit of Rs4,103.30 crore.
Roasted gram, dalwa and unmanufactured tobacco will be tax-exempted. The stamp duty on instruments executed or relating to deposit of title deeds, pawn, pledge or hypothecation will be restricted to Rs10 lakh only. Hotel tariffs up to Rs1,000 will be exempted from luxury tax while concessions will granted to eligible hotels in areas outside Mumbai, Navi Mumbai, Thane, Pune and Pimpri-Chinchwad.
"…(The) tax proposals are expected to reduce revenue yield by Rs962 crore. However, I propose to compensate this by taking measures for efficient tax collection. The national economy is under recession, which also has adverse effect on tax collection. However, recession may further deepen if the government expenditure is drastically curtailed," said Pawar. He promised faster sales tax refunds to traders, increased turnover limit for registration for VAT from Rs5 lakh to Rs10 lakh, concessions in late fees in case of delayed submission of returns, and various concessions and simplifications in tax laws.
Pawar, who invoked warrior-king Chhatrapati Shivaji Maharaj and icons Mahatma Phule, Rajarshi Shahu Maharaj and Babasaheb Ambedkar as per political convention, also referred to the state's plans to build memorials for them.
"I am aware that farmers in the state are facing a lot of distress due to successive droughts and other natural calamities and are not able to pay their electricity bill on time. Hence, we will launch the Krushi Sanjeevani Scheme for such farmers and I shall declare details of the scheme very soon," said Pawar.
"…our state is in the forefront in attracting foreign direct investment. We have attracted 18% of the total FDI flows in the country to secure an investment of Rs10,21,633 crore," he said, adding the state had approved 413 mega projects of which 114 had commenced production.
He also referred to the much-delayed Navi Mumbai International Airport, development of private ports, Delhi Mumbai Industrial Corridor, grant of ultra-mega project status to the Rs2,731-crore BHEL project at Bhandara and claimed that the state's power sector had been brought out of the rut through capacity-addition measures.
"According to advance estimates, during 2013-14, GSDP at constant (2004-05) prices is expected to increase by 8.7% as against 4.9% growth in Gross Domestic Product (GDP). During 2012-13, the GSDP increased by 6.2%," said Pawar.
The minimum salary limit for liability under professional tax was enhanced to Rs7,500 from Rs5,000, to benefit around 7-8 lakh low-wage earners.
"…Maharashtra is the economic centre of the country. The GDP of the state for 2012-13 is estimated to be Rs13,23,768 crore. The state with the second-highest GSDP in the country is Uttar Pradesh, and I would like to bring to your notice that our GSDP is approximately 72% higher than that of Uttar Pradesh… I am also proud to state that Maharashtra has a 20% share in the country's industrial output and net value addition in industry," said Pawar,
The state has exempted from May 2011 the sale/lease of film copyrights for exhibition in theatres and will now exempt sale of copyrights for the period between April 1, 2005 and April 30, 2011.
Pawar said 500 equipped vehicles would be provided to the police to be used exclusively for patrolling and ensuring security of women to enable a faster response on receiving calls on the helpline. In addition to the existing 27 fast-track courts, 25 new will be set up to handle cases of atrocities against women.
The state will pay interest on crop loans taken by drought-, untimely rain- and hailstorm-affected farmers, and has given an extension for loan repayment up to December 2014. There will be no coercive action to recover the loans till then.
Pawar also stressed their commitment to core issues such as health, housing, food security and employment, for welfare schemes for farmers, landless labourers, women, minorities and other weaker sections, and also towards development of physical infrastructure.