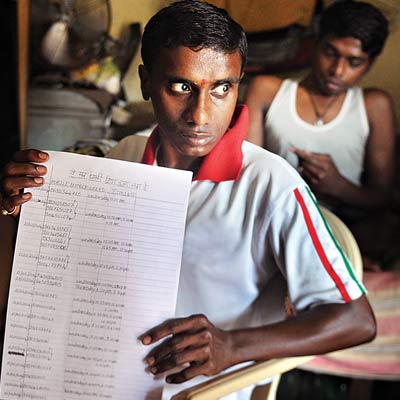 While the family of 23-year-old techie Esther Anuhya has already alleged that the Mumbai police never took their complaint seriously during the initial days after Esther had gone missing, another shocking incident of police insensitivity has come to light.
Two brothers, one of whom is handicapped, were allegedly assaulted by the Ghatkopar police during the Esther murder case probe just because they found the mobile phone (which had been stolen some time ago) number of one of the brothers in Esther's phone. The duo have lodged a complaint with the State Human Rights Commission (SHRC) in this regard.
Narrating their ordeal, Anand Kuppuswamy, 28, and his brother, Venkatesh, 29, who is handicapped, said that around 3pm on February 4, seven policemen in mufti came to their residence at Rajiv Gandhi Nagar on 90 Feet Road, Dharavi, and asked the two to accompany them. "I was shocked to see them in my house and asked them what the matter was. The cops immediately assaulted us. First they beat me up and then my brother Venkatesh," Anand told dna on Tuesday."I pleaded with them to spare me as I am handicapped, but they kept hitting me. They then forcibly took my brother to the Ghatkopar station," Venkatesh said.
In the police station, Anand was shown the photograph of a girl. "I told them I didn't know her. The policemen told me the girl had been raped and murdered. While beating me up they said my mobile number had been found in the call details of the deceased, and asked me why I had called her," he said.
Anand, who works as a cleaning boy in Kurla railway car shed, told the police that his mobile had been stolen on January 3. "I kept on telling them I didn't know who had made the call, but the cops kept on beating me. They released me at night with a warning that I would have to appear before them whenever called. I later came know through newspapers that the deceased girl was Esther Anhuya," said Anand. "Since our parents stay in the village, my brother could be taken to the hospital only after a few days. Because of the mental and physical trauma, he is still unwell. He has also lost his job. We are very poor and this incident has further eroded our finances. The police have now caught the real culprit, but what about the trauma we went through? My brother then approached the human right commission on March 21," Venkatesh said.
"We have received Anand Kuppuswamy's complaint. We have written to the additional commissioner of police (east region) to inquire into the incident and submit a report by April 5," said special inspector general of police, SHRC, Sanjay Pandey.
Despite repeated attempts, additional commissioner Vijay Chavan, who is holding additional charge of the east region, could not be contacted.