Municipal secretary dept shirks responsibility, puts blame on govt circular.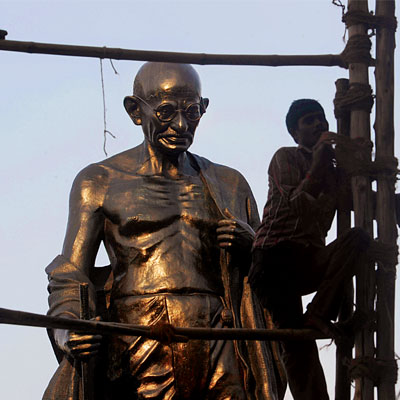 The Brihanmumbai Municipal Corporation (BMC) has forgotten to observe Mahatma Gandhi's 66th death anniversary. Mayor Sunil Prabhu tried to excuse himself by stating that he remains present on every such occasion when the municipal secretary department tells him about them, but this time he was not intimated.
On the other hand, the department, headed by Narayan Pathade, shirked their responsibility by conveniently passing the buck on the government. The department officials said that the government circular bearing the names of the national leaders who are paid tributes on such occasions did not include Gandhiji's name.
Prabhu, however, said that he will inquire into the matter as to why the occasion was not kept in mind by the department. It has been a tradition in the civic body to garland the busts, statues or photographs of national leaders honouring them and to remember their sacrifice and contribution towards the country. The senior leaders from all the parties in BMC, municipal commissioner (in his absence additional municipal commissioner) and the staff is present on such occasions. The public relation department formally prepares the press release of the event and issues it to the media with a statement of the mayor.
However, nothing of this sort has happened on January 30. In fact, the department seemed to have been in the bliss of ignorance.
When asked why it forgot the occasion, an official said: "Our department head Narayan Pathade is on leave and we had no clue about Gandhiji's name in the circular issued by the government. Neither did we have any orders to make arrangements for the event."
However, the Thane Municipal Corporation (TMC) and Navi Mumbai Municipal Corporation (NMMC) did pay their tributes to the Father of the Nation.

A senior BMC official said, "Even though the MS department forgot about the occasion, how did all political leaders forget the importance of the day? Each political party has the photos of all national leaders in their offices."