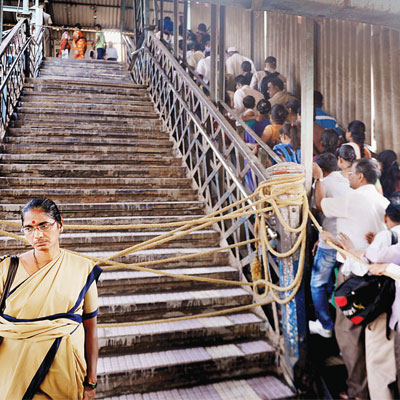 It was a harrowing day for passengers at Parel station – a commuter's nightmare on most days – on Sunday after Central Railway authorities decided to close down a part of the foot overbridge at the CST-end to facilitate repairs. The flight of stairs leading to the FOB, which is used by more than 90 per cent of people alighting at the station, needs urgent repairs, officials said.
The result was a queue of passengers, over 100 metres long, on the platform as well as on the FOB, with the railway police playing guard and guide. Most of the policemen on duty, however, were grumbling as to why the authorities had to choose a day like Sunday when so many families – women and children in tow – tend to travel.
The queue also resulted in a good number of people jumping from platform number two and crossing the track to get to the seldom used platform 3-4 and taking the FOB from there.
"We realise that this work is important but couldn't they have chosen the night time? asked Kulwant Yadav, a Kalyan resident who was standing in queue with two heavy bags.
The work – albeit a minor one as per railway standards – is a good reminder of the amount of hardships people can expect when CR finally gets down to build the Parel Terminus slated to cost Rs80 crore. That would involve one of the tracks on the western side of Parel being uprooted to make way for a 408-metre long platform. This track currently called Goods Up line is used by goods trains moving southwards of Parel station.
As per plans, once this line is removed and the platform squeezed in, the current Goods down line moving northwards from Parel will become the first track for slow trains going towards Dadar.