After prices of bread, egg and oil see steep hike, milk follows suit with Rs2/litre increase from tomorrow.
For Laveena Fernandes, 37, increasing the household budget used to be an occasional annoyance. But with prices of essential commodities like milk and vegetables heading northwards regularly, the Mahim resident feels budgeting has lost its meaning. On Wednesday, the Maharashtra State Sahakari Dudh Mahasangh (MSSDM) announced a Rs2 per litre hike in milk prices from December 21.
This hike will be the third since May and an inevitable one, according to the MSSDM, which announced it after a meeting of co-operative and private dairies on Wednesday. While Mahanand is going to charge Rs46 per litre for toned buffalo milk and Rs36 for cow milk, brands like Gokul and Warna have decided to hike its rates from January 1. Amul and Mother Dairy are yet to take a decision. Sapna Pawar, 41, a Goregaon resident, said, "Milk will now cost Rs40 a litre. Besides, the prices of bread, eggs, ghee, oil and vegetables have seen a steep rise."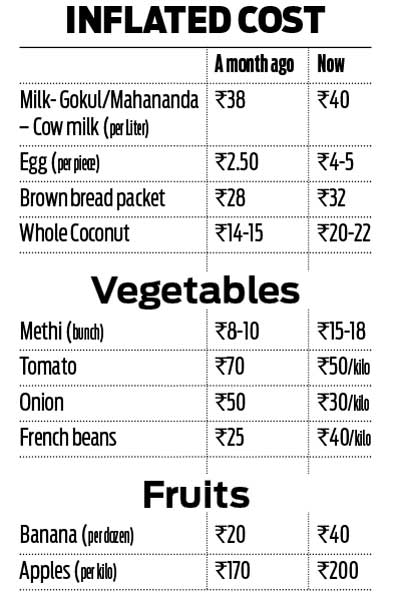 Pawar said that in the last month, due to price rise, an additional Rs800-1,200 was added to their household grocery budget. "Our home budget has gone haywire. Luckily, my husband and I are working. Cost cutting in food is difficult and the government needs to do something."
Sanjay Pansare, director (fruits), APMC- Mumbai said, "Climatic changes have led to shortage in fruit production. A year age, bananas used to cost us Rs5-6 per kilo. Now it is Rs8-9 per kilo.
There is an almost 40% rise in fruit prices." Pansare said that the government needs to step up ways of improving production to control price rise.
Price rise has also affected the restaurant business. Arvind Shetty, president of AHAR said, "Changing menu prices is an annual affair, but this year we have hiked them twice already as we have not been able to sustain inflation. One day, tomato prices would go up, while on another it was onions that made us shed tears, quite literally. We have had a roller-coaster journey so far and every day it is getting difficult as the profit margin is going down."
State-run milk services will continue to provide milk at lower rates. Speaking to dna, Yeshwant Kerure, diary development commissioner, said there were no plans to increase milk rates in the state. "On November 25, we revised our milk rates. We are selling cow milk at Rs33/litre and buffalo milk for Rs42/litre in urban areas like Mumbai."
On the frequent price rise in the milk sector, Kerure said this was due to a growing gap between the demand and supply of milk. "Large amount of milk is being diverted by local producers for skimmed milk powder, which has a high profit margin in the international market. This has led to frequent price rise."