Many are losing precious time, running up fuel bills, missing appointments.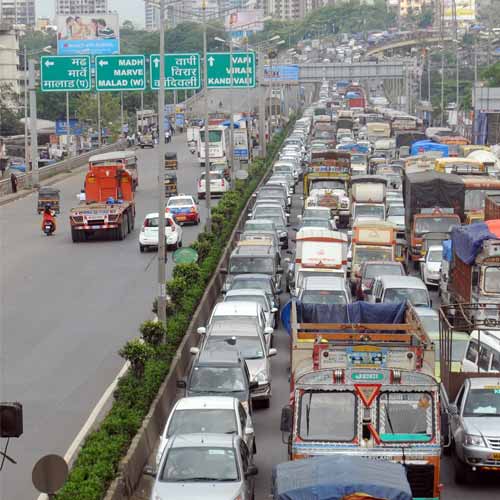 The Western Express Highway (WEH), for years a boon to motorists in western suburban Mumbai, is turning into a nightmare for travellers. They're losing precious time, running up phone bills and missing daily appointments.
The 25-km arterial road that stretches from Dahisar to Bandra is a major traffic channel for people headed from the suburbs to the city. It's also a key approach to the airport and as a result of the numerous bottlenecks many are known to have even missed their flights.
From various accounts of motorists, who still use the highway, during peak hours it could take up to two hours to cover a 15-km distance that normally should have taken not more than 30 minutes.
This has led some like actor Anubhav Krishna Srivastava to take the train. "I used to set out an hour early to travel from Goregaon to south Mumbai for ad and TV shoots. But even this hasn't helped. I now travel by train, even though I sometime have to hang dangerously in crowded compartments. At least I reach on time," he said.
Traffic begins to slow down in Malad itself. It gets worse by the time you get to Andheri where work is underway to complete the elevated road to the airport. The most recent bottleneck is at Kherwadi in Bandra where a new flyover is coming up in two lanes.
Harish Iyer was travelling from Borivali to Lower Parel. "I thought going by road to Lower Parel would be a better idea than taking a crowded train. But I had hardly gone about 500 metres by autorickshaw than I realised that I was wrong," Iyer said. It took him over two hours to get to Bandra.
If you plan to work on your phone from the vehicle, you had better be prepared for the battery running out.
Ambujesh Yadav requires to travel across the city on business. "Traveling on the WEH is a big problem. I receive many calls while travelling. Often, the phone has gone dead while I'm still in a jam," Yadav said.
A senior traffic police officer admitted that the problem on the WEH was serious. "We try to manage traffic so the flow is smooth, but due to bottlenecks there is a backlog. If a vehicle breaks down, the problem gets worse," he said.