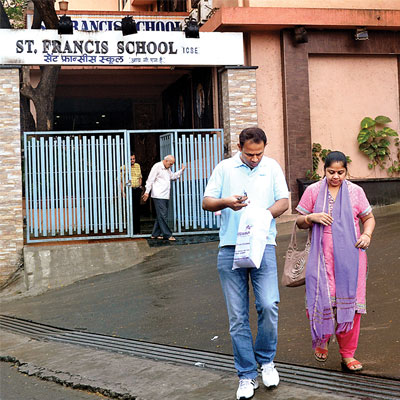 Dahisar resident Ravi More (name changed) was among the 140 parents who went to Borivli's St Francis School on Saturday to submit the forms for their children's admission to nursery. "The school is collecting Rs60,000 as donation, along with the regular admission fee, bus fee and other charges which total Rs1lakh," said More, who earns Rs15,000 a month.
Like him, all the other parents were also made to cough up the same amount in the name of a charity which goes by the name 'Society of Congregation of Franciscan Brothers'.
The printed form for this charity cleverly states, "We are giving this freely, unconditionally, towards the developmental needs of St Francis School of the Society of Congregation of Franciscan Brothers." However, parents claim that this was a precondition for the admission.
A parent said, "The trust runs many schools and colleges. We are afraid that the money might not be spent on the school where my child will study."
Brother Jose, the principal of the school, couldn't be reached. However, another official from the school claimed that the money collected is not unfair as it was "white".
Jayant Jain, president of Forum for Fairness in Education, said that almost all schools collect donations. "The amount ranges from Rs10,000 to Rs15 lakh, depending on the location and goodwill of the school.
It has been observed that 90 % of the schools take donations under various heads to avoid action under the law."
The evil of capitation fee has grown despite the Prohibition of capitation fee Act in 1987, Jain added. The collection of money as precondition for admission is prohibited, and any money collected over and above the fee constitutes capital fee under this Act.
Jain added, "The said offence of collecting any amount as pre-condition to admission is cognizable and non-bailable under Section 7A and 7AA of the said Act. There is a penalty and provision for imprisonment of up to two years."
However, since the inception of Act, only a couple of FIRs have been filed by the guilty parties, but no worthwhile action was taken against them.
Unfortunately, the state lacks a mechanism to handle the rampant corruption in education. Parents also dont know where to complain as they seek anonymity out of concern for their child's future. Rajendra Darda, minister for school education and sports was unreachable.