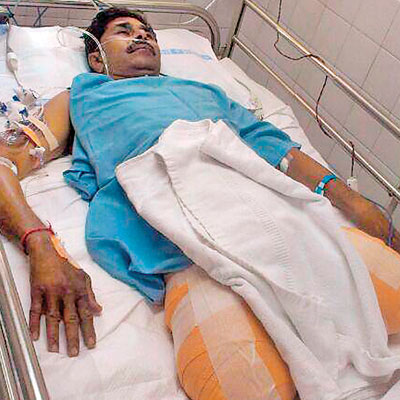 What was to be a just another day of commute for 52-year-old Hitendra Joshi, Friday's travel turned out to be a never-ending nightmare. Joshi lost both his legs after slipping into a yawning gap of a train and platform at Borivili station last Friday.
An LIC agent by profession and a resident of Vapi in Gujarat, Joshi regularly visit Mumbai to meet clients. "I had two meetings lined up on Friday. However, both of them got cancelled and I decided to return home," Hitendra told dna.
He bought a ticket in the Ahmedabad-bound Karnavati Express. "I was waiting near the general coach. The crowd vying to get into the train was abundant. I was pulled and pushed as people were desperate to get into the train before it pulled in. Within a fraction of second, I was pushed in the gap. The wheels ran over my legs one after the other," said a horrified Hitendra.
He was ferried from one hospital to another for half an hour after being pulled out of the tracks. Hitendra suffered intense trauma as his wounds were stitched and plastered at the operation table of BMC-run Shatabdi Hospital in Borivili without administering anaesthesia.
"I was wallowing in pain and bleeding profusely. I pleaded with the doctors to render me unconscious. They refused to heed to my plea as they do not have any anaesthesist on rolls at the hospital," Hitendra said. Nearly 16 hours later, Hitendra's family decided to shift him to privately-run Nanavati Hospital in Vile Parle.
"The doctors at BMC hospital did a very shoddy job of dressing. We were worried that the infection would pose a threat to his life," said Atish Desai, Hitendra's brother-in-law.
"Twelve litres of blood was transfused into him. The wounds contaminated with muck, grease, gravel and dirt were cleaned after a gap of over 16 hours," said Dr AR Karkhanis, orthopaedic surgeon at Nanavati Hospital.
Hitendra is staring at a bleak future. "His medical expenses are mounting. Doctors have estimated a bill of Rs10 lakh. We visited railway officials. However, they turned down our plea for help. The system is unhelpful and insensitive," said Atish.