Conducted by city professors, it also says ficus benjamina plants capture more dust and, if planted across city, will make air cleaner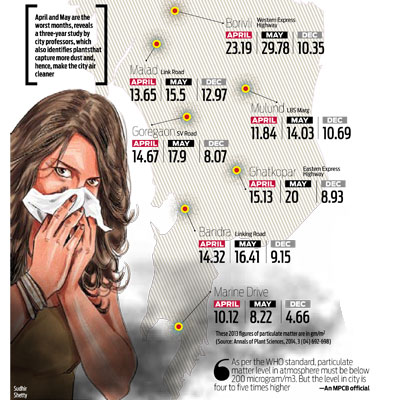 A first-ever dust map of Mumbai drawn by three city professors has identified Western Express Highway (WEH) in Borivli as the most dust-polluted area and Marine Drive as the least.
The trio also found that the Borivli part of WEH has the highest traffic density across Mumbai with 76 vehicles crossing the test spot every minute as against the 27 vehicles a minute at Marine Drive.
A major constituent of the dust pollution is sticky particulate matter, which is released in the exhaust of automobiles and deposited on the leaves of common roadside plants. Over 40% of the air pollution problem is attributed to dust and the rest to gases.
Particulate matter is a mixture of solid particles and liquid droplets found in the air. Some particles, such as dust, dirt, soot or smoke are large or dark enough to be seen with the naked eye. Others are so small that they can only be detected using an electron microscope. Their size ranges from 2.5 to 10 micrometres. These particles can go deep into the lungs and may even enter the bloodstream, causing dna mutation and, sometimes, death.
The researchers — AG Faqih and Nitesh Joshi, professors of Botany at Rizvi college in Bandra, and AN Joshi, professor of Botany at Jai Hind College in Churchgate, selected eight spots in the city based on their traffic density from February 2013 to January 2014 and monitored dust deposition on the leaves of plants at roadside and on dividers, a pre-documented method to quantify dust pollution.
The spots selected were at Marine Drive, WEH in Borivli, Eastern Express Highway in Ghatkopar, LBS Marg in Mulund, Malad Link Road, Bandra Linking Road and Krishna Chandra Marg in Bandra.
"The dust pollution in city is anyway higher than the WHO guidelines. However, Borivli WEH and Ghatkopar EEH are among the worst due to alarmingly high vehicular congestion. Goregaon SV Road, Krishna Chandra Marg and Mulund LBS Marg are slightly better off," said prof Nitesh Joshi.
May is the dustiest month in Mumbai with the gradual increase in foliar dust values from December to May, shows the study, which is part of a research paper accepted by the international journal, Annals of Plant Sciences, a fortnight ago.
The researchers also studied four plants — bougainvillea spectabilis, nerium oleander, pedilanthus tithymaloides and ficus benjamina — commonly grown along road dividers, for their dust collection properties. They found ficus benjamina (commonly known as fig or ficus and found in South Asia and Australia, grown indoors and outdoors) most effective in dust collection.
Prof Nitesh Joshi said, "This is due to the surface geometry and external characteristics of its leaves, such as hairs, cuticles, length of the petioles, height and canopy of trees."
The researchers have suggested to town planners and the civic body to grow more ficus benjamina alongside dividers.
A Maharashtra Pollution Control Board official, however, said, "As per the WHO standard, the particulate matter level in atmosphere must be below 200 microgram/m3. But the level in Mumbai is four to five times higher. It's doubtful how much these plants will help, possibly very little."
He added that the large number of ongoing infrastructure projects and the number of vehicles coming to city continuously increasing add to the air pollution. "Until we finish all projects, air quality won't improve," he said.
How the study was conducted
For dust, leaves of ficus benjamina L. var nuda, growing along road dividers, were washed with a brush to completely remove dust particles from their surface. The leaves were marked with a ribbon. On the seventh day, the leaves were collected in zipper pouches from all the sites. They were then washed in the lab and the dust was collected on filter paper, dried and weighed. The traffic volume was ascertained through a digital video camera.
Average number of vehicles per minute
Marine Drive: 27
Ghatkopar, EEH: 62
Mulund, LBS Marg: 64
Borivli, WEH: 76
Goragon, SV Road: 53
Malad Link Road: 49
Bandra Linking Road: 51
Krishna Chandra Road, Bandra: 44