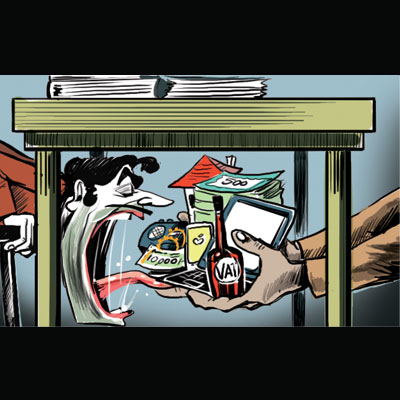 It's not just money that lures the corrupt. Of late, bribes are being sought in kind by government officials across the state. As per information from the Anti-Corruption Bureau (ACB), although in majority of the cases, hard cash is sought to grease palms, they are also coming across many cases where babus have preferred bribes in kind.
A senior officer from ACB said, "In departments such as police, revenue and BMC, there have been instances where officials have demanded expensive and imported whiskey and other alcoholic drinks." Some seek fancy smart phones, high-end tablets and laptops, etc.
The officer said gadgets and electronic equipment are preferred by many officials. Apart from personal use, these items can be gifted to family members and friends, he said.
Many senior officials have even demanded assets such as gold, land and homes. According to sources in ACB, there have been cases where officers have asked the victims for online transfer of money and even cheque payments.
"We had recently caught a police officer who had asked the victim to manually deposit money in his bank account. The complainant approached us and we had the bank slip that had the details of the money transfer as the proof," said the officer.
Such instances of seeking bribes in kind is most prevalent in departments such as police and revenue, and the BMC as the staffers deal with many sensitive issues and cases of people from different walks of life.
The quantum of punishment for officers who bribe in kind is the same as those that ask for money. Director General (ACB) Praveen Dixit said, "Any form of corruption is not tolerated by our agency and our vigilance has been strict. Outside of money, asking for any kind of favour or materials is a criminal offence and is equal to asking money. All of them are arrested and investigated under the Prevention of Corruption Act."