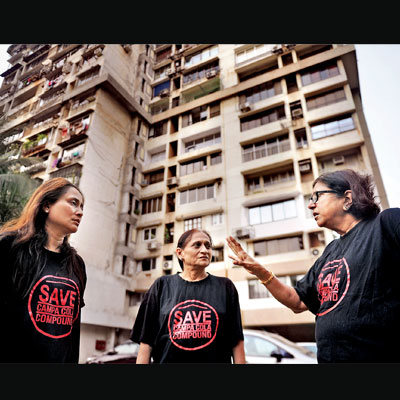 The Bombay High Court has directed that a status quo be maintained with regard to the order passed by the deputy registrar of societies granting deemed conveyance of land and buildings in favour of six housing societies in the Campa Cola compound in Worli.
Justice RV More passed the order with respect to Shubh, Esha Ekta, B Y Apartments, Mid Town, Patel and Orchid buildings while hearing petitions by the civic body and a lessee – Pure Drinks Pvt Ltd.
The BMC and Pure Drinks had challenged the December 17, 2013 order granting deemed conveyance under the Maharashtra Ownership of Flats Act (MOFA).
SU Kamdar, counsel for the civic body, argued that the corporation was the owner of the land and conveyance had been granted not only of the land but also the buildings which are facing demolition.
Also, the order was passed by the deputy registrar of societies ex-parte, Kamdar stated. He pointed out that the order conveyance was given despite the apex court ordering the BMC to demolish the unauthorized portions of the buildings concerned.
Justice More observed that that despite the conveyance order, the BMC can go ahead with the demolition. The SC has fixed May 31 as the deadline for the residents to vacate the illegal flats.
Ashutosh Kumbhkoni, counsel for Pure Drinks, stated that the deputy registrar had not heard his client before passing the order.
The residents had claimed that they had sent notice of the hearing before the deputy registrar to Pure Drinks on their old address. To this, the company argued that the company's registered office is in Patiala. Also, the company stopped manufacturing soft drinks in 1992.
Prasad Dhakepalkar, who appeared on behalf of the residents, said his clients are entitled to the conveyance under MOFA. He also argued that Pure Drinks did not have any right or title.
Further, granting of conveyance to the societies does not take away MCGM's rights as owner, said Dhakepalkar.
Kamdar said the MCGM had decided to take back its property as Pure Drinks had given development rights to a builder, said Kamdar.