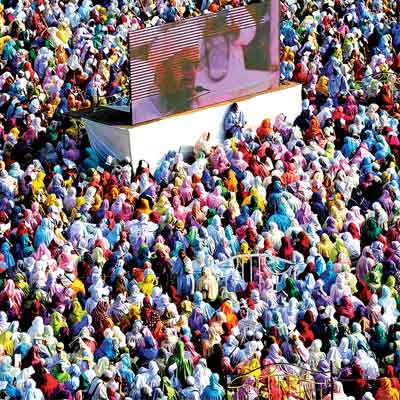 Thousands gathered in support of the new Syenda and 53rd Dai-ul-Mutlaq, Mufaddal Saifuddin at Azad Maidan on Thursday after the demise of his father, late Syedna Mohammed Burhanuddin. The ex-communication of a breakaway faction was made public and a memorandum given to the chief minister so that the community's support to the new leader is proven and no one else is recognised as the new Dai.
The show of support was to discredit any wrongful claim by the breakaway faction claiming to be the rightful successors of the late Syedna. The gathering was organised by the local Anjuman-e-Shiate Ali (Bombay), an organisation that looks after the conduct of affairs of the Dawoodi Bohra community in Mumbai.
The gathering saw the family of the late Syenda, including his first son Qaidjoher bhaiseb Ezzuddin, eminent members from the community and thousands of his followers. Dressed in whites, they chanted prefix 'Maula', which is considered to be a show of allegiance to the leader in the million-strong Dawoodi Bohra community. The speakers prayed that the successor be blessed with health.
Welcoming the crowd, Qaidjoher said: "...People have tried to break our unity but we should stand united for each other."
He added, "We will not speak to the breakaway faction [ex-communicate them]. Nass was performed on Mufaddal not once but a number of times."
"Each time Nass was performed in the presence of witnesses..." said Mustafa Kachwala, joint secretary of Anjuman who interacted with the press.
The breakaway faction that has announced Khuzaima Qutbuddin, brother of late Syedna as the new successor, will be organising a religious ceremony in Thane on February 4.