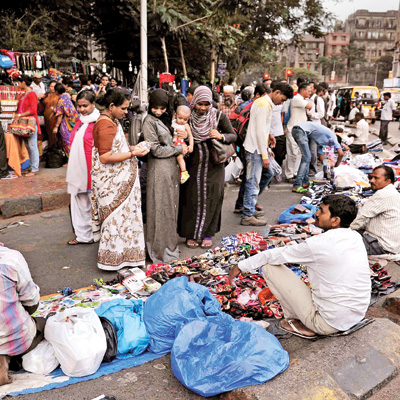 As the civic body prepares to implement the hawker policy, it has begun discussions to finalise the cut-off date for regularising the existing roadside vendors. Municipal Commissioner Sitaram Kunte has asked his law officers to seek the legal opinion from the advocate general on the issue.
Kunte recently met officials from all 24 wards to discuss the Street Vendors (Protection of Livelihood and Regulation of Street Vending) Act and the manner in which it will be put into practice in the city. The meeting also saw presence of experts on vending committee.
The Brihanmumbai Municipal Corporation recently distributed 1.28 lakh forms to street vendors for registration. So far, it has received nearly one lakh forms with supporting documents for verification.
The Supreme Court had on September 9, 2013 directed all states to implement the national policy on hawking. Under the policy, licences can be issued to 2.5% of the total population. This means Mumbai can have nearly 3.2 lakh street vendors.
Mohan Adtani, additional municipal commissioner said it is important to sensitize the officials before actually implementing the Act as they are the ones who will be directly involved in the process. He said BMC will have to present the scheme to the state government for approval before implementing the scheme.
Kunte also sought suggestions from experts – Sharit Bhowmick, professor at TISS and Rohit Shinkre from Rachana Sansad College of Architecture. They made few suggestions on the basis of three pilot projects in three wards – Dadar, Chembur and Vile Parle.
"We have given quite a few suggestions to the civic body in order to help them to assimilate the existing hawkers in the scheme. Hawkers needs to be seen as a part of the system and not as an encroachers. However, regulating their activity would keep the numbers in control. Each area would need different module according to the need," said Bhowmick.
BMC will have several checks and balances before issuing licences. Apart from registration forms, the assistant commissioners will have their own inventory of street vendors and the nature of their business. "They will have to provide proofs like family income certificate, Aadhaar card and other documents required to secure the licence," said a senior civic official.