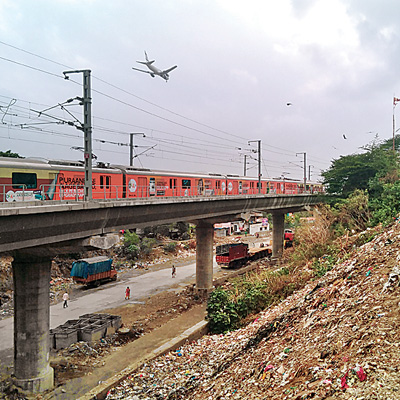 The Bhim Nagar hillock, located between Ghatkopar and Jagruti Nagar stations on the Metro railway route, will no longer be an eyesore for commuters.
In a first such attempt, the BMC is set to clean around 110 feet of the steep hill, littered with refuse, with the help of a group of city-based trekkers.
The initiative has been undertaken as part of BMC's Swachcha Mumbai Prabodhan Abhiyan, a programme the civic body is executing to manage solid waste generated in the city.
The cleaning process will begin on Thursday with trekkers from Sahyadri Adventure Klub (SAK) joining a team of 35 volunteers associated with the civic body.
"During one of his inspection rounds along the Metro railway route, civic chief (Sitaram Kunte) had found a heap of waste lying on the slope between the two stations. This is a complete eyesore. So, we have decided to clean up the same as part of the abhiyan on Thursday," Subhash Dalavi, officer on special duty working on the programme, said.
Dalavi said that given the difficulties, the BMC had considered two options of deploying fire brigade marshals or getting the work done using suspended platforms. "However, deployment of trekkers with expertise appeared to be a better option. This way, we are also ensuring public participation in cleaning the city, as is expected in the scheme. The trekkers immediately responded to our communiqué and will help us without charging a penny during the day-long effort," the officer said.
Santosh Nigade, vice president of the trekkers' club which has so far cleaned several forts like Harishchandragad (Ahmednagar), Jivdhan (Pune) and Mahuli (Thane) and a mountain pass in Western ghat, Naneghat, said the organization will engage 15-25 volunteers on the job. "The lower 50 feet of the hill is rocky. Then, there is a 30 feet portion in the middle littered with garbage, while the upper stretch is clean. In such a case, if it rains, it will be a difficult task. But we are taking all the safety measures and are happy to be part of the civic effort," Nigade said.