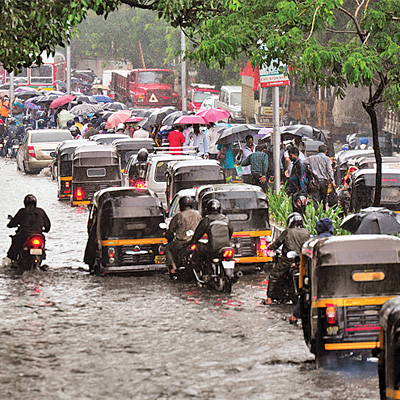 After drawing flak from residents and corporators for its lack of preparedness to prevent flooding at chronic points in the city, following a heavy rainfall on Monday, the Brihanmumbai Municipal Corporation (BMC) authorities have stepped up action to prevent a similar situation in the next two months.
Additional municipal commissioner of eastern suburbs SVR Srinivas has asked all the 24 wards across the city to submit detailed reports on the issues in their wards.
In the report, the wards have been asked to state flooding spots in their jurisdiction, and also compare if those these spots were prone to flooding in 2013 too. The wards have also been asked to identify the quantity of water accumulated in each flooding spot and the possible reasons for that and mention it in the report which has to be submitted in the next two days.
After the wards submit the reports, the compiled report will be analysed by a consultant hired by BMC and the civic body's catchment engineers to devise a solution to the flooding problem.
"After individual reports are submitted by the ward, we will analyse the area and depth of flooding spots and identify the exact reasons why those specific spots were flooded. In any case, if the city receives more than 65mm of rainfall, flooding is likely," said Laxman Vhatkar, chief engineer, engineering services and projects, BMC.
Vhatkar informed that the flooding took place because of a host of other reasons. "People use storm water drains as garbage bins, as a result of which they get choked. There is rampant thefts of storm water drain nets which leads to blockage," he said.
The cost of a single net is Rs 5,000 and that of a double net Rs 8,000.
However, Jason Fernandes, a Santacruz-based activist said many of the pumps were not working properly, because of which there was water-logging. "Many of the pumps are old and were not working on Wednesday. It's high time the civic body looks into it," he said.