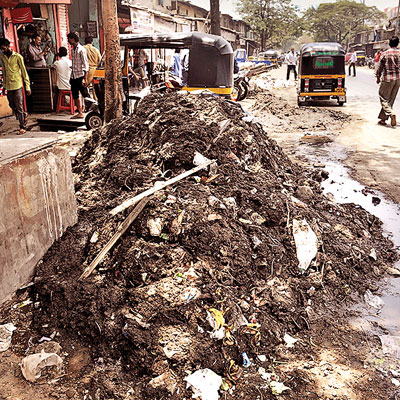 The Brihanmumbai Municipal Corporation (BMC) has said that the desilting of roadside drains would be completed in a week, to alleviate waterlogging during the monsoon.
According to the BMC, there are about 1.68 lakh water entrances (which is what roadside drains are called in official parlance) across the 24 wards in the city. Of these, about 1.13 lakh drains have already been cleaned, an official said on Friday.
SVR Srinivas, additional municipal commissioner, said, "The progress of work in all the wards has been satisfactory. On average, we have managed to clean up 67 per cent of the roadside entrances. The remaining work will be completed in a week. So if the rain does come early we will be in a position to tackle any flooding."
Srinivas said he has been personally monitoring the desilting work. dna had reported that the BMC had set a timetable to complete the desilting of nullahs and major drains by the first week of June. The target for the work on roadside drains is May 25.
According to information available, till Saturday, desilting of nearly 70 per cent of the major drains had been completed. The BMC has said that of the 3.65 lakh cubic metres of waste it had estimated to be cleared, about 2.53 lakh cubic metres was removed so far.
But some citizens are skeptical about the claims by the civic body.
"Every year, we hear the BMC talk about cleaning the water entrances, but the work is never completed. In Andheri, where I live, I have yet to see any of this cleaning work begin," said Rohan Sawant.
Sawant said the focus of the BMC is usually on the major drains as a lot of money is involved in the larger volume of work, but the origin of the problem is ignored. "The BMC must get more serious about the job," he said.
Flooding during the monsoon is a perennial problem in the city and Mumbaikars complain that the civic body does not pay sufficient attention to the matter. They say that not cleaning the neighbourhood nullahs, which flow into the major drains, results in clogging and consequently flooding.