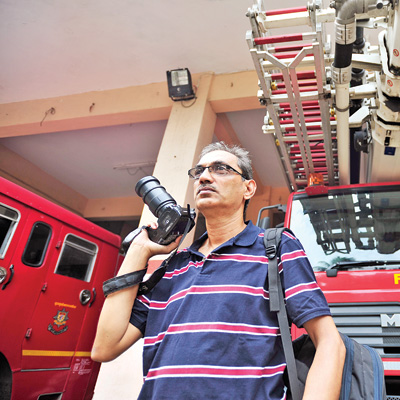 Despite spending 26 years shooting pictures and footage of major fire incidents and building collapses in Mumbai, Rajneesh Kondwilkar is still addicted to his job, rather camera.
Kondwilkar, 50, is the lone photographer of the Mumbai Fire Brigade who has single-handedly been covering fire incidents, building collapses and other disasters (bomb blasts, riots) across the city.
Major ones include fire at the Indian Express building, the Oberoi hotel fire, Babu Genu building collapse, and Lotus Business Park fire.
What makes Kondwilkar's job different from others is the details his pictures require, as they are often used for analysis and investigation by the Brihanmumbai Municipal Corporation (BMC).
"I always have to be extra careful while shooting as the images can provide crucial evidence to the department during investigations," says Kondwilkar, who holds a degree from the JJ School of Arts. And invariably, that comes before satisfying his basic instinct to look for exclusive pictures.
So, what is it that drove him to a profession as unique as this? "I always wanted to be photographer, but when I first joined the BMC, I wasn't sure what I was supposed to do. It's only after a few months that I realised what exactly my job entailed," he says. That's where he found his calling.
Shooting dangerous fire incidents and building collapses is not everybody's cup of tea, however, especially when it involves such a high amount of risk. Is he not scared for his life? "Initially, I was, but I trust my firemen colleagues. They guide me perfectly well," Kondwilkar says.
Kondwilkar's experiences have made him tough over the years. Encountering crushed and charred bodies might be passé for those involved in rescue operations during such incidents, but it is a big deal for a photographer. "There are several heartbreaking moments, but then, all you can do is keep your emotions aside and do your job," he says.
He recalls, while shooting pictures of a collapsed building in Kumarwada a couple of years ago, he came across the stiff bodies of a mother and child hugging each other, being pulled out from the debris. "It was such a painful image that it stuck with me," Kondwilkar says.
Apart from shooting perfect pictures, he also gets a high when his pictures are displayed in schools, colleges, railway stations and other public places for the purpose of educating people. "A picture says a thousand words. So, even if people make sure they turn off the knobs of their gas cylinders after seeing my pictures, it will be an achievement for me," he adds.