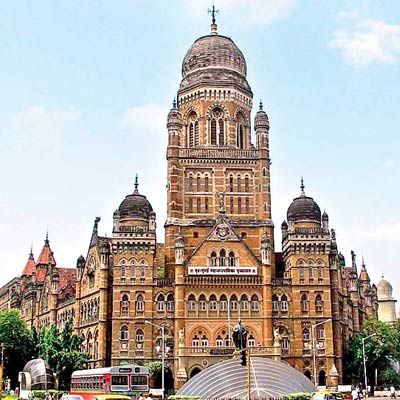 The Shiv Sena-BJP-led BMC on Wednesday presented a lacklustre budget for 2014-15 with no new projects for the city. The Rs31,178.19 crore budget with a pathetically meagre surplus of Rs5.77 crore — the amount the civic body expects to save — will focus on completing existing projects in a time-bound manner. The only saving grace is that there will be no further hike in the already high taxes proposed.
As per the budget presented by municipal chief Sitaram Kunte and standing committee chairman Rahul Shewale, the capital expenditure — money spent on projects — is projected at Rs11,051 crore — 18 per cent more than last year's Rs6,430.33 crore. Kunte said health, education, solid waste management, water and roads-related projects will be given priority over others.
The major allocation in the budget was to the solid waste management department (Rs2,236.80 crore) followed by water and sewerage operations department (Rs6,126.72 crore). Learning from its mistakes in the past and following a series of building collapses, the BMC, for the first time, has allocated Rs500 crore for structural audits of all buildings in the city.
The municipal commissioner said projects are planned keeping in mind the revenue expected from the fungible FSI, premium and development charges, which are pegged at Rs4,400 crore. So far, the BMC has collected Rs3,400 crore from this segment. Octroi is the major source of revenue for the civic body with water bills, licence fees, advertisement charges and property tax being the additional sources.
In a one-of-its-kind initiative, Kunte said the BMC will start a 'business development cell' to kill red-tapism in the system and project Mumbai as an international, business-friendly city. "The BMC will be the first civic body to introduce such an initiative for the business community. This will help in improving the city's image on the international map," he said.
On the sorry state of roads, the civic chief admitted that adopting different technology did not work.
Now, the BMC has formulated a three-year master plan for improving roads totalling a length of 1,239km at Rs7,774 crore. The civic body will focus on completing pending road projects like asphalting and cement-concretising roads in the city and suburbs.
Among other initiatives, private layouts will be included in the garbage services and the BMC will charge for the same. The corporation will also start the debris collection scheme with a fee. The water department has focused on providing clean water without contamination. The civic body will implement leak detection, safe drinking water plan in 16 wards this year after the success of the time-tested pilot project in Ghatkopar area.
In the health sector, a new hospital in Bhandup with 100 beds and increase of 500 beds in hospitals is the civic body's target for the year. Connecting all schools with computerisation will be the highlight of the municipal school education system.