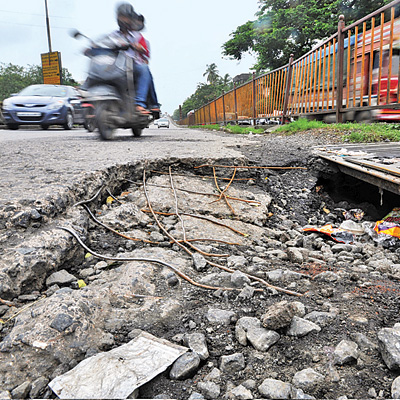 With Ganeshostav round the corner, Municipal Corporation of Greater Mumbai (MCGM) is making sure that the Elephant God has a smooth ride this year. It has planned to repair all potholes on city roads in the next five days and is leaving no stone unturned to get the work done.
What is the assurance?
Sitaram Kunte, the municipal commissioner and mayor Sunil Prabhu have assured the Ganapati mandals that all preparations would be completed before the start of the festival. The 10-day festival will be celebrated from Aug 29 to Sept 8. Kunte, Prabhu and additional municipal commissioner along with officials of different departments as well as Naresh Dahibawkar, president, Brihanmumbai Sarvajanik Ganeshotsav Samanvay Samiti, visited major immersion spots in the city and inspected the work.
Which were the spots inspected?
The civic team visited Girgaum Chowpatty, Mahim Chowpatty, Juhu Chowpatty, Madh, Gorai Beach, Powai Lake, Shivaji Talao in Bhandup, Morya Udyan Talao in Mulund and Sion Talao. Roads leading to these spots were also inspected."They also inspected the roads leading to major Ganapati pandals and those connected to immersion points. The roads department has been asked to fill all potholes and resurface roads before the festival begins,"said a senior official from roads department.
Are officials satisfied with preparations?
Nitin Sardesai, members of legislative assembly from Dadar, said he was satisfied with the arrangements being made by the ward office at Dadar Chowpatty, the most important immersion point after Girgaum Chowpatty. Ashok Jadhav, the Andheri MLA, demanded that Dadar Chowpatty be given all facilities similar to that being provided at Girgaum Chowpatty, as the former too is considered an important immersion spot.Mayor Sunil Prabhu has asked the municipal commissioner to look into the demand.
For how long BMC has been on the job?
Civic officials said preparations for Ganeshotsav had been going on for the past three months. Issues related to hoardings, licences, roads repairs, potholes, and law and order had been discussed time and again involving all departments. The commissioner has been holding periodic meetings to keep an eye on the ongoing work, said an official.