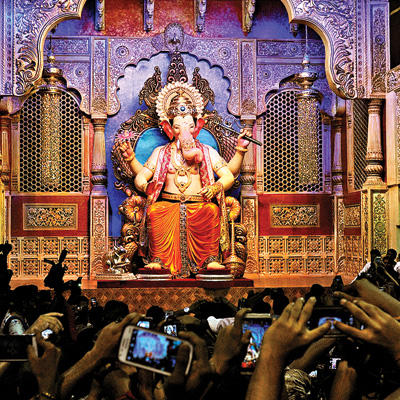 With the civic body getting strict about not allowing Ganesh mandals to put up any political banners this Ganeshotsav, both politicians and mandals have started putting pressure on the corporation against the move.
The Brihanmumbai Municipal Corporation (BMC) has decided against allowing mandals to put up banners inside or within 100 metres from the pandal premises. A circular to this effect was issued on August 21 to all the 24 ward offices that will ensure mandals follow the direction.
However, sources said, many political leaders are putting pressure on civic officials, demanding that the rule be tweaked a bit, if not changed.
Every year, crores of money is spent by the 11,800 Ganesh mandals during the 10-day festival. If the civic body decides to implement the rule in its original version, it will be a major setback for both the mandals and political parties. While mandals would lose 30-40% of the revenue they earn through political banners, politicians will lose out on the publicity, crucial for them ahead of the upcoming assembly elections.
Narendra Dahibhavkar, president of the Brihanmumbai Sarvajanik Ganeshostav Coordination Committee, said mandals were aware they are in for such a problem. "There is not much we can do about it. So, as an additional measure, we have started collecting funds through souvenirs," he added.
A prominent leader from Congress said, "We had requested the BMC to at least allow banners of office-bearers (chairman and other representatives) of that mandal to be out up." However, office-bearers of most mandals are attached to some political party or the other.
Sharad Bande, licence superintendent of the BMC, confirmed the move and said, "We are considering displaying the names of sponsors."
But what if the donors are political parties, which usually is the case? "As per my knowledge, even then, political banners will not be allowed," Bande said.