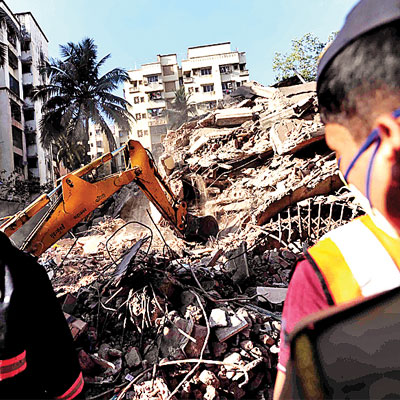 A short film made by the BMC with an aim of raising awareness about the perils of living in dilapidated buildings has received mixed response. While in some wards the response was overwhelming, there were no takers of it in other areas.
The 21-minute documentary was made following growing pressure on the civic body to take action against all dangerous and dilapidated, especially before the monsoon.
For example, the film could not be showed in C ward, which has jurisdiction over Kalbadevi area, as most residents were opposed to it. Assistant municipal commissioner of the ward, Dr Sangeeta Hasnale, said, "Residents didn't want to see it and there was no police protection provided to us."
However, Hasnale said they will soon be distributing CDs of the film to police stations, where it will be played. "We will also play it near major road junctions, and are in the process of getting necessary permissions from the traffic police," she said.
Hasnale added that currently there are eight dangerous and dilapidated buildings in the ward and water and electricity connection has already been disconnected in six of them. Hasnale, who was in temporary charge of the E ward, which has 10 shaky buildings, said the response was the same there.
In D ward, area around Malabar Hill, Assistant Municipal Commissioner Parag Masurkar visited individual societies and convinced residents to watch the film. It was played to a group of 20-25.
In B ward – Pydhonie and Dongri – the response was better. "Many society residents came to watch the film. After watching it, at least 50 people met me," said Kishor Gandhi, assistant municipal commissioner of the ward.
There are 26 dilapidated buildings in B ward, of which 12 have been vacated. "We are in the process of taking action on the rest," he said.
However, in L ward, which covers the Kurla area, the response was apparently overwhelming. "As many as 200 residents came down to the ward to watch the film. The response was very good," said Harshad Kale, assistant municipal commissioner.
L ward has a whopping 131 dilapidated buildings. "Of them, in 17 buildings, either the water or the electricity connection has been disconnected or the residents themselves have vacated the buildings," Kale said.