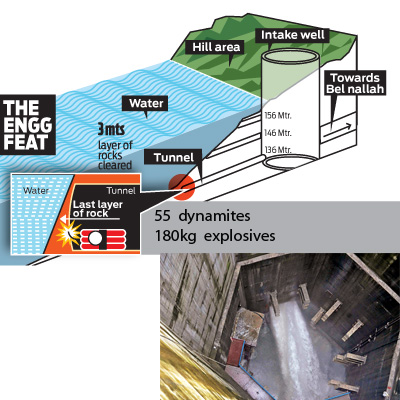 The Brihanmumbai Municipal Corporation (BMC) on Wednesday conducted lake tapping at Modak Sagar dam – it became the first civic body in the country to embark upon such a project. For an ordinary Mumbaikar, the engineering feat means an additional stock of water for eight days a year.
The annual water (useful content) storage capacity of seven dams from where BMC supplies water to Mumbai is 14.47 lakh million litres. Following lake-tapping, it will now be able to lift an additional 29,000 million litres (8 days' stock) available at the bottom of the Modak Sagar reservoir.
The additional water, available up to 4 metres below the upper layer of useful content, can be lifted only if monsoon is delayed or it doesn't rain.
As reported in dna on February 21, the corporation had planned to perform lake-tapping in order to fetch additional water from Middle Vaitarna dam, the corporation's newest dam and proposed Gargai reservoir.
Water from Middle Vaitarna dam is first brought to Modak Sagar, located at a lower altitude. Given the Middle Vaitarna dam has been filled for the first time this year, the civic body has additional water available. To tap this resource, it has built an intake well in the vicinity of Modak Sagar dam. Water from the dam is brought to the well through three tunnels – the last one was completed by blasting rock layer on Wednesday.
Shiv Sena president Uddhav Thackeray, who triggered the dynamite explosion to clear the rocky buffer layer, said, "I congratulate the engineers associated with this project. It's is big achievement for them as no other municipal corporation has managed to carry out such a work."
Since the BMC had no past experience of lake-tapping, the government had allowed it to take help of the two engineers who had helped the state perform such an experiment in Koyna dam in Satara in 2012. One of them, Deepak Modak, said he was more nervous than the time they had carried out lake-tapping at Koyna dam. "But I am happy to see the tunnel through."
The engineering feat
A lake tap involves digging a tunnel almost to water and rock contact layer and then blasting the rocky buffer layer to let water flow into the tunnel towards the intake well, from where water is brought to the distribution network. In order to tap water from Middle Vaitarna and proposed Gargai reservoir, the civic body has built an intake well near the Modak Sagar dam. The well has been connected to the lake by three separate tunnels, excavated at 156 metres, 146 metres and 136 metres (lower tunnel) respectively
Clearing the last hurdle
55 dynamites
180kg explosives used
3 mts layer of rocks cleared