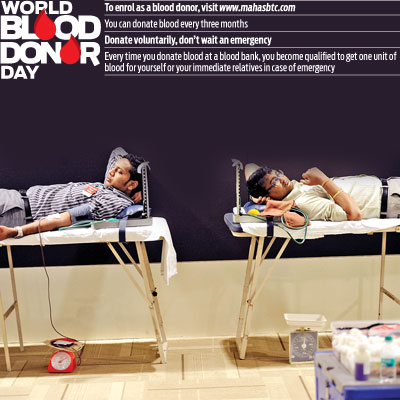 The Union ministry of health and family welfare (MoHFW) will felicitate the state on Saturday for providing excellent blood donation facilities. June 14 is the World Blood Donor Day.
The Maharashtra's State Blood Transfusion Council (SBTC) is the only body in the country to have met the mandated one per cent of a state's population donating blood. Maharashtra has 11.12 crore people. In 2013, up to 14,75,003 of them voluntarily donated blood through 21,113 camps.
"We have ensured that up to 1.27% of people in the state donated blood. Maharashtra tops the list among states in complying with the National Blood Policy," said Dr Sanjay Jadhav, head, SBTC Maharashtra.
Common men who are heroes
They aren't celebrities, but they have saved lives. On World Blood Donor Day, dna profiles three of them who have donated blood over a 100 times.
Haresh Bhuta (63), donated blood 181 times
Haresh Bhuta has donated blood 181 times, and holds the distinction of being the first in India to have donated blood over a 100 times. He reminisces lining up in his alma mater, Bhavan's College at Chowpatty, to donate blood the moment he turned 18 in 1968.
What prompted him to do this was a road accident. "I was walking towards CST when I saw a man lying in a pool of blood at Hutatma Chowk. I rushed him to St George Hospital. The doctors asked me to donate blood. I am O+ve, a universal donor. I quickly obliged," Bhuta said.
Bhuta, a former National Insurance Company employee, is now retired. He has always stayed fit. "My haemoglobin levels used to soar to 20 units till recently. I have always been conscious about my diet and eat eggs as well as green vegetables to maintain iron level in my body. I can no more donate as I am over-aged," he says. Bhuta was felicitated by the Governor of Maharashtra in 1983.
Sanjay Dabke, donated blood 143 times
For 58-year-old Sanjay Dabke, donating blood is a way of life. He has been doing this since he was 22. "In 1978, one of my friends egged me on to donate blood during a college donation drive," recollects Dabke. He was scared then. "I slowly began donating blood every three months. I eventually joined the municipal corporation where we'd get a day special leave the day after donation. To avail special leave, I continued donating," he jokes.
"I don't have any ailments. My haemoglobin levels touch 15 units. I donate at Red Cross Society every three months," said Dabke, who now works as a secretarial assistant in Reserve Bank of India (RBI).
Kaushik Shah (56), donated blood 116 times
Shah started donating when he was 24. In 1971, when the Indo-Pak war broke out, he wanted to do his bit for the country. "In order to do my bit, I started donating blood," said Shah. "There were a lot of myths then surrounding blood donation. Blood collection rate never picked up until the 1990s. I followed the message of my conscience," said Shah.
To enrol as a blood donor, visit www.mahasbtc.com
You can donate blood every three months
Donate voluntarily, don't wait an emergency.
Every time you donate blood at a blood bank, you become qualified to get one unit of blood for yourself or your immediate relatives in case of emergency.