Four visit the 16-year-old at KEM hospital and teach her how to operate an electronically-operated limb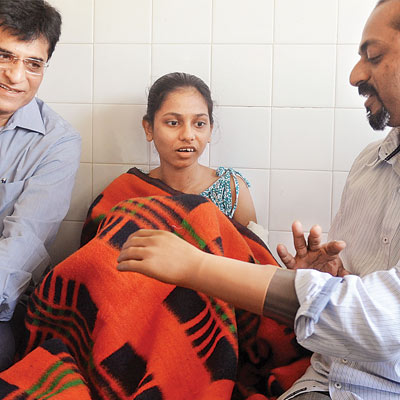 Monika More's face lit up on Monday. She beamed with delight as Mahendra Pitale, 40, taught the 16-year-old how to operate an electronically-operated limb. Pitale had lost his left arm during the 2006 serial train blasts.
Four victims of the 11/7 tragedy – Mahendra Pitale , Alwyn D'Cunha (43), Chirag Chauhan (27) and Hansraj Kanojia (42) – visited Monika in ward number 26 of the KEM Hospital in Parel.
Monika, who is otherwise reclusive and barely utters a word, was at home talking to Pitale. She looked on with curiosity and awe as Pitale maneouvered his skin-coloured electronic hand to rotate and grip a glass at the press of a button. The prostheses made by a German-based company Ottobock cost him Rs7 lakh.
"I can carry out gross motor functions like holding a pen, driving the motor bike. However, I can not sculpt stone carvings. I don't get the grip of tools that are required to hammer and chisel sculptures," said Pitale.
Pitale is a sculptor by profession and his capacities have been substantially limited after he lost his left arm. His biggest worry now is the maintenance of his prostheses.
"The five-year warranty given by the company has expired. The arm works on sensors, batteries and sockets. These are expensive spare parts. I have spent an additional Rs1 lakh on maintenance of my electronic arm," Pitale told dna.
Monika's kin are weighing pros and cons before arriving at a decision to fit prostheses for her. While BJP leader Kirit Somaiya said that raising Rs15 lakh for both electronic arms was enough, Dr Pradip Bhosle, head of orthopaedic department at KEM Hospital, has quoted a staggering Rs50 lakh for fitting her prostheses.
Inspite of disparity in projection of costs, Dr Bhosle maintains his stand, "Monika's wound stump is maturing and healing. The best prostheses will cost her around Rs50–60 lakh. Our aim is to get the best hand function for her," said Dr Bhosle.
Somaiya retorted saying, "It is possible to get the best prostheses under Rs15 lakh. I shall ensure she gets the best of treatment. The remainder fund will be deposited in a fixed deposit to aid her for a life time to maintain her prosthesis costs."
"We have managed to collect close to Rs25 lakh for Monika's future," said her father Ashok More. It has been over a month now that Monika has been admitted in the orthopaedic surgery department. She lost both her arms as a CST-bound local train ran over her after she slipped in a wide pit on platform number two at Ghatkopar station on January 11.