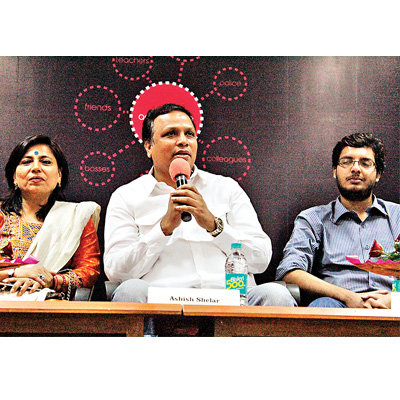 In a departure from his party's earlier unsupportive stand for the LGBT cause, BJP 's Mumbai chief Ashish Shelar, said, "Criminalising the gay community by misusing Sec 377 of the IPC is not acceptable to the BJP," and added, "Decriminalising consensual sex between two adults is a pressing need." He was speaking at a special Independence Day "Acceptance Meet" organised by Humsafar Trust and other allied organisations for members of the community and their parents. Shelar also promised to raise the issue which affects over four crore people with prime minister Narendra Modi. "The Union minister of health Harsh Vardhan, has already shown his support for the cause. I also think parliament cannot ignore something which affects such a large number of people."
Ex-IPS and lawyer activist Y P Singh, however, challenged Shelar. "Political parties like the BJP and Congress won't push for doing something because they're more worried about their conservative vote bank." He suggested to the members of the community to aggressively file RTIs for station diary entries and then file follow-up complaints of extortion if the police try to harass them with decoys and trap them. Activist Abha Singh, who was also present said, "Given the numbers involved and the assembly elections around the corner, parties should not ignore the community," adding, "As a mother, I wouldn't want anybody's child being called a criminal based on her/his sexuality."
Ashok Row Kavi, underlined how the re-criminalisation of homosexuality by the Supreme Court in Dec 2013, had only increased instances police persecution and extortion. "The police invokes Sec 110 of the Bombay Police Act, to harass homosexuals. They then have the freedom to decide what constitutes indecency."
The panel discussion was preceded by Ek Madhav Baug, a play which tells the story of a 21-year-old coming to terms with his sexuality. Seen from the point of view of the mother (played by Mona Ambegaonkar), reading his diary, the play has him speaks to her about his conflicts and ultimate acceptance of being different but not deviant.