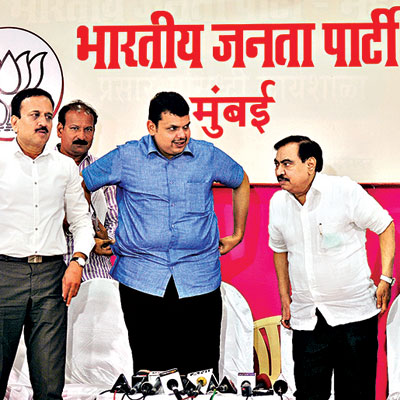 Maharashtra unit of the Bhartiya Janata Party is gearing up to prepare a cursory note on the state's ground level situation, before party's national president Amit Shah comes to the city. On September 4, Amit Shah will visit the city to meet the state core committee members apart from addressing party workers. Shah will also visit few Ganapati pandals on the sidelines.
State BJP president Devendra Fadnavis said that the party national president will share his views and give suggestions on preparations undertaken. "We will present all the facts and details to him which will give a fair idea of the ground level situation in Maharashtra,"said Fadnavis.
Shah, who will be in the city for only a day, will not meet Shiv Sena president Uddhav Thackeray. However, Fadnavis defended this by claiming that Shah's visit is to meet the core committee and to address party workers. "We wanted him to come and be a part of the Maharashtra culture and take darshan of Lord Ganapati. Not meeting Uddhavji does not mean that we have any differences. Our relationship is not depended on meeting each other when the senior leaders are in town. Two leaders will meet at the right time."
On Monday, state leadership met at the party's Dadar office in Central Mumbai and discussed the report cards prepared by the observers who visited the constituencies across the state. "This was the first election committee meeting. Not all but a few report cards were discussed. Rest of them will be looked into in the next few days. These report cards would mean a lot while finalising candidatures since it contains opinions of local leaders and ground level workers. Observers have done a rigorous job,"said a senior party leader.
Fadnavis said that state unit will have to finalise all the details as early as possible since they want to conclude the alliance meeting early. "We want to finalise the election calender.
The decision of few seats and the candidature will be finalised and sent to the central parliamentary board for approval soon", he said. Fadnavis evaded the question on number of seats each party wants as he said that Sena - BJP both will have to work towards accommodating alliance partners.
BJP's election committee on Monday discussed issues like how to start campaigns, which issues can be raised, how and when media help can be sought, how local level party workers can be enthused. Meanwhile, on Monday, N Ramarao and G S Gill, both former IAS officers, joined the BJP.