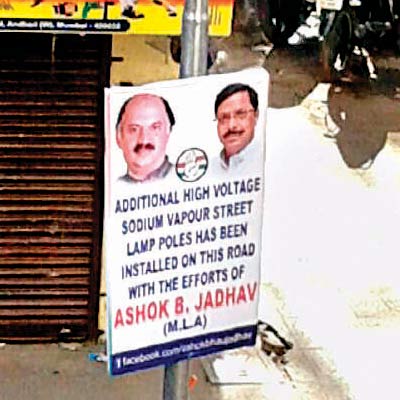 Ashok Jadhav, the Congress MLA from Andheri, has claimed credit for the installation of additional streetlights, inviting criticism from Ameet Satam, the local Bharatiya Janata Party corporator who had undertaken a hunger strike recently to improve lighting in the neighbourhood.
The civic authority has put up about 50 new streetlights in various parts of Ward no. 62 in the past one month. The work was the result of a successful campaign led by the BJP corporator. Satam even undertook a week-long fast in January.
Some of the areas where the new lights have been installed are Junaid Nagar, Juhu Lane, Lalubhai Park, Barfiwala Lane, New India Colony, Azad Nagar and Upshraya Lane.
On Saturday, some banners appeared in these areas claiming that "additional high voltage sodium vapour street lamp poles has been installed on this road with the efforts of Ashok B Jadhav MLA".
"I never thought that Jadhav would stoop so low to grab publicity," said Satam. The BJP corporator pointed out that Jadhav had also put Gurudas Kamat, the Congress member of parliament, in an embarrassing position by putting his picture also on the banners.
He pointed out that this was not the first time Jadhav had conducted himself in such a manner. "In another instance, after I had got the approval for beautification of a spot under the Juhu Lane flyover Jadhav claimed credit for it. He has not taken up such issues and residents know him well," said Satam.
Some residents have also posted messages on Facebook criticising Jadhav for this act.
"There are several cases where it is difficult to know who got the work done, as one does not follow the process of government approvals. But this job was clearly taken up by Satam. We were witness to the hunger strike. How can somebody else claim credit for this," said a general practitioner.
Meanwhile, residents are understandably happy about the new streetlights that have been put up and they now feel confident to move about in the late hours. While many have to go shopping, many elders choose to visit the temple in the evening hours.
Poor lighting in public places is a major concern that prompted a citizens' forum to undertake a survey in Andheri and other parts of the city. The study found large stretches had insufficient lighting facilities and demanded new street lamps in different places.
The Brihanmumbai Municipal Corporation has been referred the matter to the Indian Institute of Technology (IIT) to work out ways to fix the loopholes and formulate a policy for the city.
geeta.desai@dnaindia.net