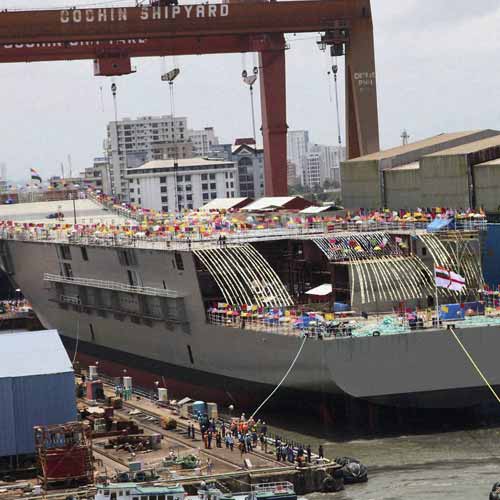 A week after the central government decided to auction the decommissioned aircraft carrier INS Vikrant, two major political parties on Tuesday launched a symbolic fund collection drive to save the erstwhile heroine of the high seas.
Activists of the Bharatiya Janata Party (BJP) and the Republican Party of India (RPI) also demonstrated in south Mumbai and sought contributions from the public, including commuters, office-goers and cabbies, for the ship now known as Indian Museum Ship (IMS) Vikrant.
"We demand the Maharashtra government should save the ship. But Chief Minister Prithviraj Chavan says the government has no resources. We are ready to raise the funds by appealing to the public," senior BJP leader Kirit Somaiya, who led the drive, said.
Somaiya alleged that while the government was involved in corruption amounting to thousands of crores of rupees, it could not spare Rs1.40 billon required to maintain the aircraft carrier which has an emotional connect with the masses.
In a related development, the Shiv Sena also chipped in with a proposal to save the IMS Vikrant.
BrihanMumbai Municipal Corporation (BMC) standing committee chairman Rahul Shewale has shot off a note to Municipal Commissioner Sitaram Kunte demanding the civic body make additional budgetary provisions for the maintenance of IMS Vikrant.
Shewale said the BMC had already made a provision of Rs25 crore during the past four years, but the amount could not be handed over as the necessary paperwork was not done, and lapsed.
He urged Kunte to include the lapsed amount as well as make additional provision in next year's civic budget to take care of the ship's maintenance to prevent it being sent to the scrap yard.
Somaiya said the money collected from the general public would be handed over to Governor K Sankaranarayanan for saving and maintaining IMS Vikrant which played a stellar role in the 1971 India-Pakistan war.
Last week, during the Navy Day celebrations, the central government announced plans to e-auction the IMS Vikrant as scrap after the Maharashtra government made it clear it could not provide funds to maintain it.