Kids shouldn't be made to hug and kiss Claus as person in costume is a stranger: Podar Jumbo Kids.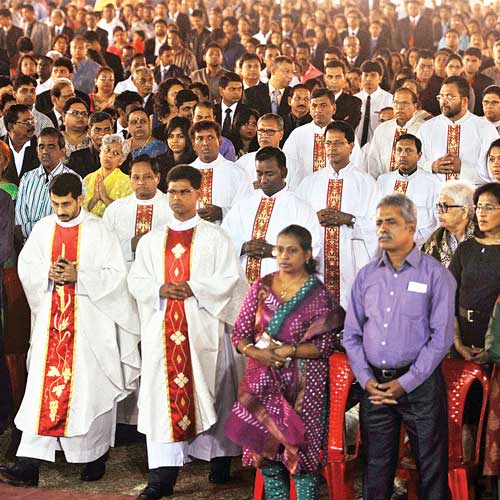 It is that time of the year again when a big, jolly red-suited man, with a white cottony beard, will be ho-hoing his way around with a large sack of gifts. He is someone who children identify in a heartbeat and rush to for chocolates and goodies. A city pre-school, however, has decided to show parents a possible flip side of the festivities.
All centres of Podar Jumbo Kids in Mumbai recently invited parents for a session to warn them about the possible evils behind the happy image of Santa Claus. "We let our children hug and kiss him and even let them sit on his lap. We fail to keep in mind is that it's just the idea of Santa that is happy and safe. In reality, it's an unknown person inside the costume," said Swati Vats, president, Podar Education Network.
The school has made a list of guidelines which, it feels, may help parents be alert. In a circular given to parents, it said, "In countries around the world there have been instances where 'Santa' has been arrested for drinking, touching kids inappropriately etc. so this means that there could be a pedophile lurking behind the beard and rosy cheeks? Isn't it the perfect opportunity for them as parents are urging their kids to 'go to' the Santa, 'go kiss' the Santa, 'go sit' on his lap (sic)."
What prompted the school to issue such a circular? "On a TV show, I saw how men abroad were arrested for sexual offences and crimes related to kids when they were dressed as Santa Claus. It was something I had never thought about... we decided to warn parents," said Vats.
Parents too have said that they need to be vigilant. "Parents have to understand that they need to create this awareness in children and continuously safeguard them to avoid such experiences," wrote a parent on the school's blog.

School's guidelines
Teach your kids to only shake hands with Santa
If you are clicking a photo of your child with Santa, be vigilant about Santa's 'hands'
Please do not ask your child to hug or kiss Santa. The suits that they hire are hardly clean, so let's not pass unnecessary germs to our kids.
Teach your child about good touch (and) bad touch and talk to your child that even Santa cannot be allowed to give bad touch.
Try to keep your child's belief in Santa alive as long as possible but (it's) important that you also believe in safety of your child. Maintain a balance.