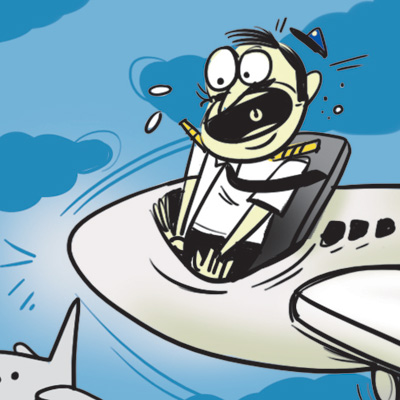 Air travel in the country is fraught with risk. The number of near misses or airprox (when two aircraft come dangerously close to each other) has gone up compared to last year.
At least 17 such cases have been reported in 2013-14, according to Airports Authority of India (AAI) figures. In contrast, 2012-13 saw only 13 cases.
Despite upgrading and modernising the Air Traffic Controls (ATC) in the country, near misses have gone up, an AAI official said. ATCs are upgraded continuously to improve air operations.
The UN-backed International Civil Aviation Organization (ICAO) defines an airprox or near miss as a situation where a pilot or ATC staff feels that the safety of an aircraft is compromised because of the relative positions and speed of two aircraft. And this classification is applicable only in cases of actual risk and not potential risk.
The AAI official said a permanent investigation team (PIT) under the Directorate General of Civil Aviation (DGCA) is supposed to thoroughly look into cases of near miss. If there is a lapse of judgement on the part of an air traffic controller, he/she is taken off operations, given corrective training, re-assessed by a board of officers and re-absorbed.
But investigation reports of near misses by the DGCA are rarely put in public domain. But in countries like the UK or the US, the system is transparent and investigations are completed within a stipulated time and findings are posted on websites for the public.
Ideal separation
When an aircraft is flying at an altitude of 29,000ft, the vertical separation should be 1,000ft.