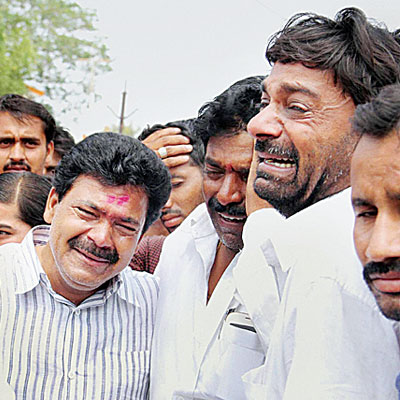 Known across the state for its turbulent politics, Beed district saw an uneasy silence on Tuesday. Reason: death of son of the soil and Union minister for rural development Gopinath Munde.
While they had managed to come to terms with the death of BJP veteran and Munde's brother-in-law Pramod Mahajan eight years ago, the demise of state's former deputy chief minister has caused an irreparable vacuum, locals said.
"This is the worst thing that has happened to us. Hardly had we managed to recover from the loss of Pramodji, saheb (Munde) has left us now. All of us in the family are speechless. Every supporters of his is in mourning," Hiralal Karad, Munde's relative, who hails from his home turf Parli, said in a trembling voice, refusing to speak further.
Bapusaheb Tarukar, a teacher in Gevrai taluka, too is in shock at the loss of "identity of the district" as people outside Beed know them as "residents of Munde's district". "Our emotions are getting the better of us. Following his thumping victory in the Lok Sabha election, Beed residents were all set to give him a grand welcome on Tuesday, the day he left us forever. It was supposed to be a time for celebration, instead we are left to shut down the entire district. What an irony!" Tarukar said bitterly.
According to Ramkishan Muley, a resident of Ambejogai from where Munde completed his academics, it's not just about the emotional attachment to the state BJP stalwart. The district has suffered a jolt politically too at a time which can be considered as a turning point, he said.
Muley said expectations were high from Munde, with the leader already sworn-in as Union minister and his name doing the rounds for the coveted post of Maharashtra chief minister in view of the upcoming assembly election. "This was a very crucial period politically. Leadership like Munde's takes 25-30 years to flourish. With both Mahajan and Munde gone, people here will have to wait for that long period now," Muley added.
Paying tribute to Munde, his political rival and former Union minister Sharad Pawar described the BJP strongman as a leader who had an understanding of agriculture.
Taking cue from that, Beed resident Avinash Gajare said, "The farmers here are left shelter-less now. He was a leader who worked for their welfare. After the recent hailstorm, he had fanned out every nook and corner of the district to get relief for farmers, especially for sugarcane field labourers. Who will these farmers look up to now?" Gajare, who owns a farm, asked.
Obviously, the locals will have to wait for sometime to get an answer to their queries.