beauticians say clientèle getting increasingly younger; peer pressure blamed.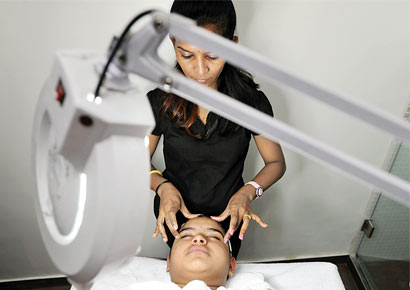 Nisha Shah is sulking at home. "It's just a puja, and you went to the parlour just before Diwali. If you keep on getting your skin and hair treated, it'll lose its natural shine," says her exasperated mother, Naina. If you think this is normal bickering between a mother and her daughter, consider Nisha's age — she's only 12.
Ultimately, her mother gives in. "She is the tallest among her classmates and feels pressurised to look like and copy what senior girls are doing," says Naina of her daughter.
"But sometimes I feel my middle-class upbringing was better. Growing up, all we tried were home treatments like besan-malai face packs," says the wholesale grain merchant's wife.
At the parlour, Nisha opens up. "For the pre-Diwali party at school, every girl had straightened hair, wore make-up and many got Arabic mehendi done. But Mama keeps restraining me saying I'm too young. Look at my acne. Does she know I get called names?"
Nisha isn't the only pre-teen to be obsessed with looks. As the wedding season kicks in, salons are seeing their clientèle getting younger, says Manu Jhingron, 36, who runs two parlours in Juhu and Vile Parle.
"At first, I was aghast when Avinash Jha, a Class VI student, was brought to the parlour. His unibrow was so thick that kids in his school used to tease him. A year later, he comes by himself once a month for a threading session."
Avinash's mother says, "This has ended up making him feel good about himself, and he does not insist on staying home for fear of being teased."