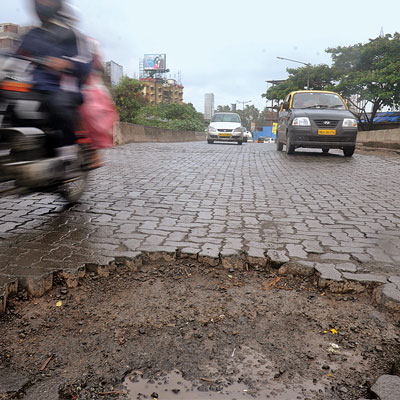 Rains may have arrived in the city, but contractors appointed by the Brihanmumbai Municipal Corporation for the purpose are yet to get on with their job. Reason: despite the civic standing committee approving appointment of contractors last week, the municipal administration apparently is yet to issue work orders to the agencies concerned.
As on June 16, the roads department had received around 90 potholes complaints over the past two days, sources claimed.
"First, the proposal was tabled before members of standing committee late. Now, there is a delay in issuing work orders. If rains cause potholes, tax-payers will have no option but to deal with craters on the streets," a source in the department said.
The BMC has been using pothole tracking system www.voiceofcitizen.com to register complaints pertaining pits on city roads since November 2011. Civic engineers are supposed to assign potholes filling jobs to contractors through the system.
What will substantiate the claims made by sources, as on Monday, the potholes tracking system displayed the department received 16 potholes, while none of the craters was either planned for treatment or attended by BMC.
"The civic body has received more than 90 grievances. Only 16 could be seen online. But, given there is no work order issued to the contractors, the work cannot go ahead even though the contractors posses login to the system," the source said.
The source added majority of the complaints the corporation received are made by public, while the BMC's road engineers are going slow with their job. Interestingly, additional municipal commissioner SVR Srinivas, who heads the roads department, had last year announced it is the onus of the road engineers, more than 250 in number, to report potholes and not public. "Public too can report it. But it is responsibility of the engineers primarily," he had said.
Meanwhile, when asked about delay in work, Srinivas admitted that the department was yet to ink agreement with the contractors. "However, I have given oral instructions to the contractors to get on with their jobs. Rather, the department has already started allotting them pothole-filling assignments," the official claimed.
Srinivas added he will check if the engineers are reporting potholes are not as is expected from them.
First showers open up roads
According to sources, the BMC received over 90 potholes complaints following two-three days rainfall. As one June 16, the potholes tracking system though showed only 16 potholes complaints online. Out of these, no pothole was planned/attended by civic contractors