We speak to Surindra Khubchandani, member of H-(W) Ward Federation, to know his thoughts on setting an age limit for Dahi Handi govindas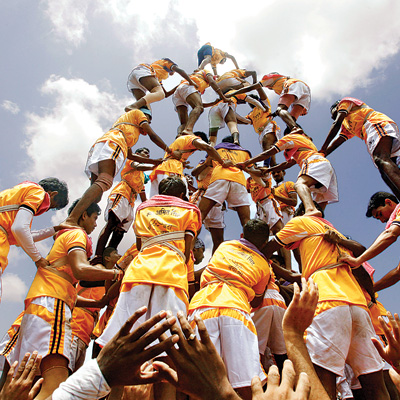 Following the tragedy that befell the 14-year-old govinda last year, the Bombay High Court's ruling setting the age bar for the govindas to be a minimum of 18 years has received mixed reactions. Though the mandals in the city are not particularly happy about the decision, people have given a nod to the ruling. Here are excerpts from an interview with H-(W) Ward Federation member, Surindra Khubchandani.
What do you think about the High Court's ruling on govindas?
Gokulashtami celebrations should not end in tragedies such as serious injuries inflicted to the head, neck, spine, etc. As the state government has failed in implementing rules for preventive safety, the Bombay High Court ruling is most welcome—it should have been implemented a few years earlier.
How will the mandals be affected?
Only a few bigger-sized mandals will be affected, that too monetarily, as they will not get a chance to boast about their record of scaling the highest dahi handi; the total number of dahi handis broken and the record-breaking cash pocketed by the individual govinda mandal.
But is it safe even for the 18 year olds?
No, I personally feel it is not safe for the 18 year olds either; every year we see many govindas sustaining grave injuries. However, banning govinda mandals from using those who are under the age of 18 is a very good step.
What about placing of cushioning or mattresses to minimise injuries (as the ruling suggests)?
Human life is to be valued and safety measures are important. Carpets should be placed strategically and helmets should be provided to minimise the injuries.
Will the mandals face a monetary loss as the dahi handis have prize money running into crores?
Only bigger mandals will face a monetary loss. However, as politicians are the ones who fund these celebrations for promulgating their name and gaining votes, the prize money, even if it runs in crores, will not go down. Instead, with the oncoming elections, the prize money will only go up.
What do you think about the role of the police in maintaining a check on the mandals?
It's great that the police will be recording video and monitoring the proceedings closely. However, I suggest that the police also take the help of the mohalla committee. It is good to note that the offenders would be booked under Section 188 of the Indian Penal Code.
As told to Pooja Patel